---
Beau
-

Twelve Strings to the Beau
published: 28 / 4 / 2013
---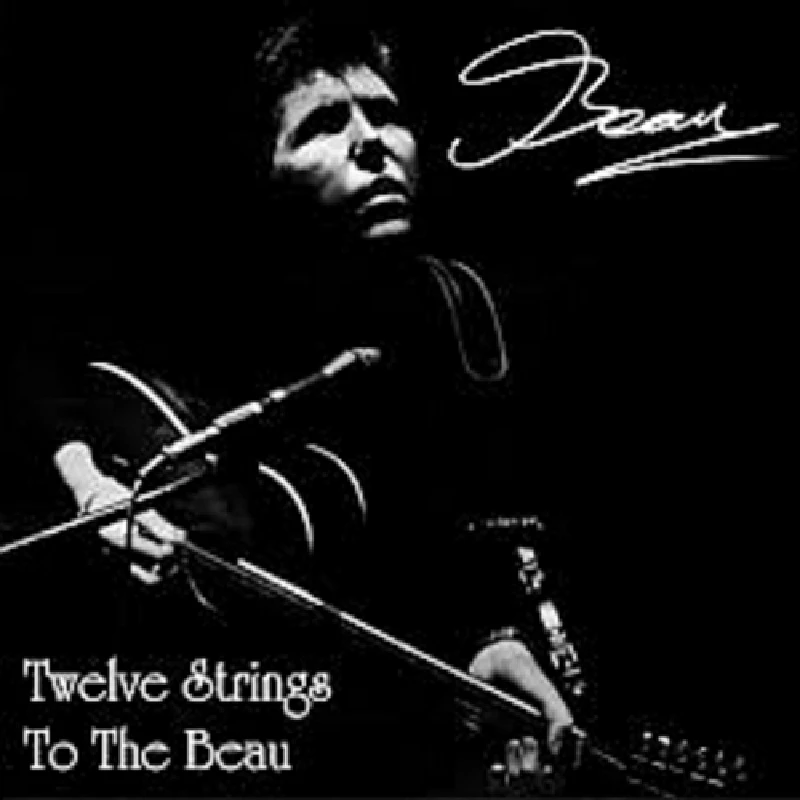 intro
Long-lost but excellent third album from late folk artist Beau, which is finally being released in in entirety over forty years after it was recorded
Christopher John Trevor Midgley was one of the first signings to John Peel's Dandelion label, and released his debut album under the name of Beau on that label in 1969. Beau's self-titled debut didn't exactly set the world on fire, but then neither did any of the Dandelion signings (except for Medicine Head who actually saw some of their recordings make the charts), although looking back now it is strange that most of Dandelion's roster achieved either cult status or found fame with other labels. Kevin Coyne and Tractor/The Way We Live still attract a large following today, David Bedford went on to greater things (Mike Oldfield, Kevin Ayres, Roy Harper), Bridget St John's music is still appreciated and respected worldwide and Clifford T. Ward forged a long, successful career out of his McCartney-infused pop songs. Beau, while very much in the singer-songwriter mould of the times, stood out from the masses for a couple of reasons. He favoured the acoustic twelve-string guitar that gave his recordings a fuller, warmer sound than that of many of his contemporaries, and Beau's vocals matched his chosen instrument perfectly. There was little not to like about Beau's vocals. He wasn't part of the love it or hate it singer-songwriter school of vocalists like Neil Young or Bob Dylan. Beau was much more like then label mate Clifford T. Ward; the warmth displayed in those vocals captured the listener instantly. Despite being one of the most interesting singer-songwriters of that period and being on a small, but obviously musically aware label. 'Beau' failed to make much impression on record buyers. but did generate enough interest for Dandelion to release a second album in 1971 titled 'Creation'. That decision was no doubt inspired by the success of a single pulled of the debut album, '1917 Revolution', which made it to number one when released in the Lebanon in 1969. With members of fellow Dandelion act The Way We Were drafted in to flesh out the sound, which they did in places especially on songs such as the blistering 'Silence Returns' which alone singles out Beau as more than the usual earnest folkie he was known as, 'Creation' was still very much a Beau album. His songwriting was just as strong here as on the debut. Lyrically Beau was still addressing issues close to his heart and gaining converts along the way, and those comforting vocals that were impossible to ignore two years previously were still captivating. While the album showed progress from his debut due to the addition of other musicians, what really came through on 'Creation' was that Beau was an exceptional songwriter. That those two albums have been reissued a number of times over the years proves that Beau's music has a timeless quality. Listening to his Dandelion albums even now, over four decades after they were recorded, it would be difficult to place a year on them. Maybe that's one of the reasons why See For Miles, Air Mail Archive and Cherry Red have all re-released Beau's albums in varying formats and with varying track-listings throughout the years. In 1972 Beau returned once again to the studio with Jim Milne and Steve Clayton from The Way We Were (who had now developed into Tractor). The tracks recorded were intended for a third album, provisionally titled 'High Mass', which never saw the light of day because of Dandelion folding. Angel Air finally issued some of these songs in 2009 on the 'Edge of the Dark' collection along with some other tracks that now make up what is being promoted as that long lost third album, 'Twelve Strings to the Beau' on the Sound Of Salvation label. It matters not that some of the songs have been issued before. ' Twelve Strings to the Beau' consists of fourteen original Beau compositions that match, and in some cases better the songs that made such an impression over those two Dandelion albums. The collection opens with 'Love Is' a gentle, melodic love song; Beau is not primarily known for his love songs but here he displays such tenderness you are left wishing he would write more songs of this type because this song is stunning. A version of Beau's 'The Roses of Eyam' follows (the song was made famous by Roy Bailey) that shows Beau's traditional folk roots perfectly, and which many fans have been after for years; over the following twelve songs Beau covers a lot of ground and subjects lyrically proving once again that his timeless folk songs are just as relevant today as they were when written back in the mid-seventies. 'Twelve Strings to the Beau' sounds as fresh today as when it was recorded. Those who were captivated by Beau's Dandelion albums are in for a treat when they hear these songs. Any young, budding folkies would do well to check this album out for a quick lesson in how it should be done.
Track Listing:-
1
Love Is
2
The Roses Of Eyam
3
Miss Alice Preece
4
Cartoon
5
The Commodore
6
Bristol Museum
7
The Wine Was Sweeter Then
8
Rats
9
Black Raven Of The Morning
10
Why Do You Laugh?
11
Shanty Town
12
The Wind Blows Around Them All
13
When All Of The Smoke Cleared
14
Goodbye
Band Links:-
https://www.facebook.com/12StringBeau/
http://beausrecordings.blogspot.co.uk/
Label Links:-
http://thesoundofsalvation.bigcartel.com/
http://salvationrecords.co.uk/
https://www.facebook.com/thesoundofsalvationrecords
https://twitter.com/SalvationRecs
https://www.youtube.com/channel/UCLPRWq8yAeOlTYIuYjaRo0g
Pennyblackmusic Regular Contributors
---