---
published: 8 / 3 / 2013
---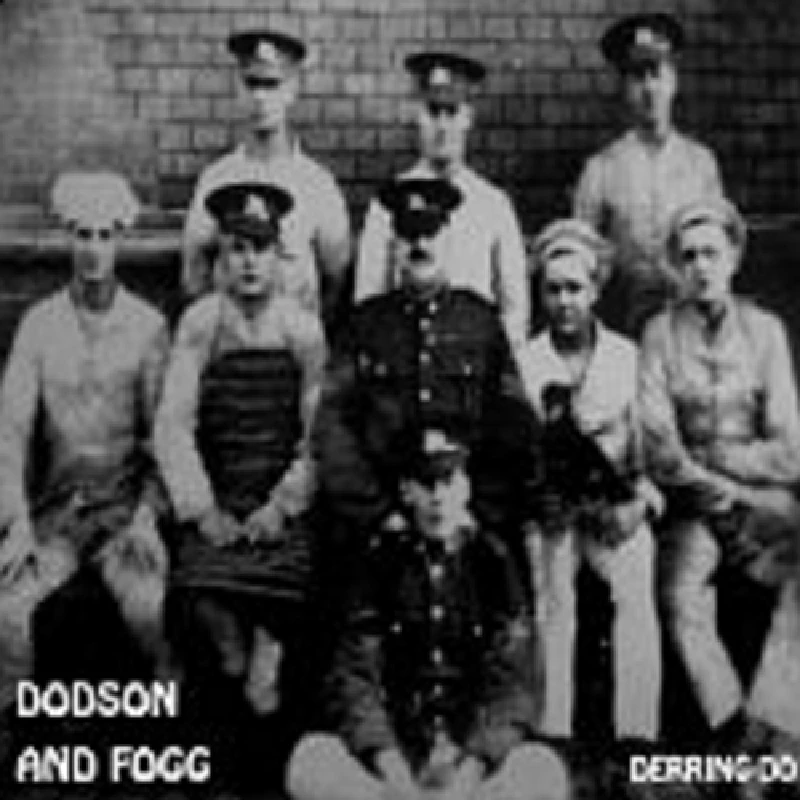 intro
Atmospheric 1960's and early 1970's-influenced folk pop on second album in six months from Dodson and Fogg, the project of multi-instrumentalist and author Chris Wade
The closing months of 2012 saw the release of one of the year's most interesting and compelling albums. Multi-instrumentalist and author Chris Wade issued his debut album under the name of Dodson And Fogg; not only did it deservedly pick up glowing reviews but Wade's name has been hard to avoid since then. Most decent music magazines and web sites have mentioned Wade since that stunning debut was released. Wade had produced an album that, while looking unashamedly backwards to the 1960s and early 1970s for inspiration, still sounded strangely contemporary. Roping in unexpected names from that same period such as Nik Turner (Hawkwind), original Fairport Convention vocalist Judy Dyble and Celia Humphris from the Trees helped give his sound a touch of authenticity, and the fact that Wade proved he was no slouch as a songwriter means that now, almost six months after we first heard the album 'Dodson And Fogg', it still sounds fresh and is forever revealing new surprises. It was a brave move to release the follow-up while many of us are still discovering the delights of that debut. It was also a little concerning. Could Wade come up with another batch of songs as strong as those on his debut so quickly? Would he change direction completely and leave behind his 60's influences? Wade has shown through his other projects that he is not the type of artiste to stand still. The answer to the first question is yes; the songs on 'Derring- Do' are every bit the equal of those we heard as 2012 faded away. While Wade has not deserted the sound he captured on his first album, 'Derring-Do' taken as a whole album, shows signs of progression and a step forward while losing none of the fascination and feel Wade has for the past. Nik Turner returns, adding his distinctive flute sound to one song, Celia Humphris backing vocals again make a haunting contribution to almost half the songs. and this time Wade has recruited Alison O'Donnell to provide vocals on 'Leaves They Fall'. The former singer with Mellow Candle who is still making music and touring (and who recently collaborated with Head South By Weaving on 'The Execution of Frederick Baker') proves another fine choice of female singer to enhance Wade's dreamy, floating vocals. One of the small but effective changes Wade has made is the introduction of brass to a couple of tracks. The lone trumpet, played by Colin Jones, on 'What Goes Around', while a simple addition, really does add texture and colour to the songs it is featured on. Dropping the strings used on his debut and adding brass shows Wade's need and ability to make changes to his music. There is an overall trippy feel to this album, more so than Wade's previous work. That's not a criticism; on certain songs, like the aforementioned 'What Goes Around', early Pink Floyd keeps coming to mind and it is not the only time this happens when listening to 'Derring-Do'. It is not apparent on all the songs. The other track that features brass, 'Too Bright' is an upbeat, more poppy, song than we've come to expect from Wade. It is as catchy as a common cold and would be a fine starting point for those who are put off by the folk/prog tag that Wade attracts. Again the song has its origins in the music of the 1960s while still sounding fresh and contemporary. The song fades just as Wade's searing guitar work pushes through, and we are reminded just how talented Wade is as a guitar player. It appears that all the guitar parts on 'Derring-Do' are played by Wade, including the bass parts, and the sounds Wade produces from his guitars is one of the major attractions in his music. He doesn't only play the notes, this guy feels them, and it shows in every song. It seems that Wade handles all the instruments on the song 'Dreams of You And Me' apart from the flute (which he can also play, see the title song and 'Everybody Knows') and the sound this one musician creates is remarkable. The warmth in Wade's vocals is another appealing factor in these songs, but surprisingly the opening track, 'Introduction', a short instrumental, really sets Wade's stall out perfectly capturing the feel and setting the mood for the rest of the album. 'Derring-Do' is a collection of songs that seamlessly flow along, that's not to say that they all sound the same, Wade covers more ground in one single song than many artistes do over a whole album, but this is not an album where you feel the need to skip over any song. It is best taken as a whole and very difficult not to do so, once you are get onboard Wade's musical trip it's hard to step off. 'Derring-Do' is another collection of thoughtful, intelligent, dreamy folk/pop expertly played and produced by one of this generation's most talented musicians, much as Wade's debut has been loved and cherished by all those who have heard it, 'Derring-Do' takes Wade's musical vision one step further. Fifteen perfect, atmospheric songs make this the first really important album release of 2013.
Track Listing:-
1
Introduction
2
Flying High
3
The Leaves They Fall
4
Can't Hold Me Down
5
What Goes Around
6
Too Bright
7
To the Sea
8
Dreams of You and Me
9
Like It Was Yesterday
10
I Have You
11
Everybody Knows
12
Time
13
The World Goes By
14
Derring Do
15
Why Not Take Your Time?
Band Links:-
https://www.facebook.com/pages/Dodson-And-Fogg/282552805161916
https://twitter.com/dodsonandfogg
http://en.wikipedia.org/wiki/Dodson_and_Fogg
http://nigelplaner.co.uk/test2/voice-a-music/voice-intro
http://wisdomtwinsbooks.weebly.com/dodson-and-fogg-cds.html
Label Links:-
http://wisdomtwinsbooks.weebly.com/
https://www.facebook.com/pages/Dodson-And-Fogg/282552805161916
http://wisdomtwinsbooks.weebly.com/dodson-and-fogg.html
https://twitter.com/dodsonandfogg
https://www.youtube.com/user/sofaguard
Have a Listen:-
Pennyblackmusic Regular Contributors
---