---
published: 27 / 1 / 2013
---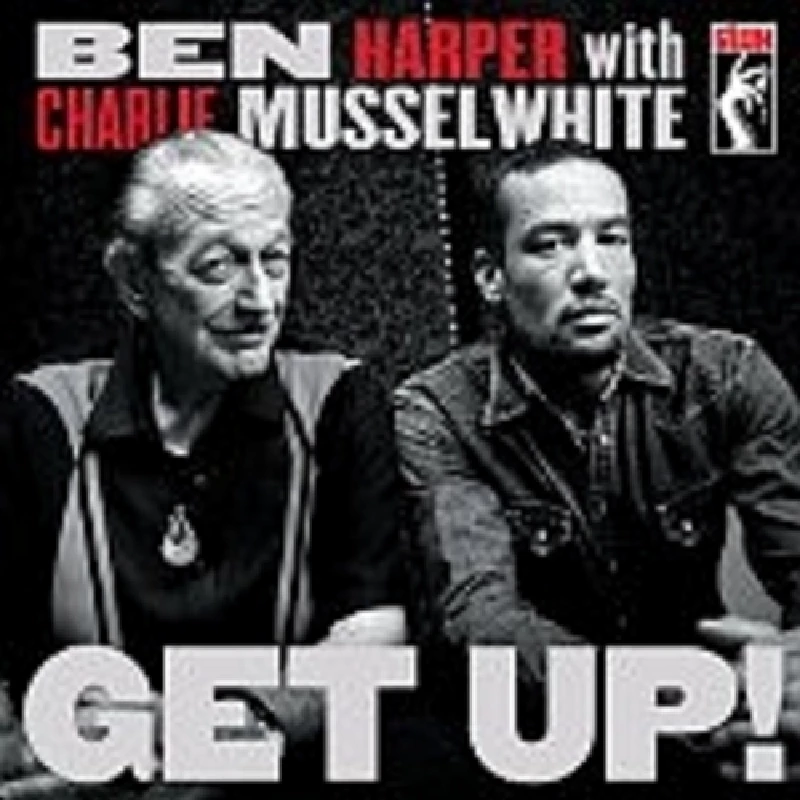 Label: Decca
Format: CD
intro
Outstanding blues-oriented twelfth album from American singer-songwriter and multi-isntrumentalist Ben Harper, which he has recorded with harmonica player Charlie Musselwhite
It is somehow fitting to see the familiar Stax logo on the sleeve of Ben Harper's new album, his twelfth studio album since his debut in 1994 with 'Welcome to the Cruel World'. Teaming up with the exceptional harmonica player Charlie Musselwhite appears to be an inspired move. While multi-instrumentalist Harper has always straddled a wide range of genres, and he still does to some degree on this latest collection, the blues is the prominent sound explored over these ten new Harper recordings. The two musicians apparently realised they were compatible musically when they recorded with John Lee Hooker and the results displayed on 'Get Up!' confirm that. 'Get Up!' is in the running as the most natural sounding and complete Harper album these particular ears have heard so far. For all the genre flitting Harper's heart always appeared to be in the blues idiom, and, while this latest collection of songs isn't just blues-by-numbers, it does show that Harper obviously feels at home with this type of song. Maybe his collaborator on 'Get Up!' has given him the inspiration and courage Harper needed to make an album of music that is close to his heart. That Harper is a master musician there is plenty of evidence for spread over his previous albums. Harper has always been more than just adept vocally no matter what genre he was exploring at the time. There are songs on 'Get Up!' though that have to rank as not only among the best Harper has written lyrically but also recorded. 'Ride at Dawn', taking the stance of a soldier waiting for battle, is a ghostly stripped-back blues that will haunt you long after the song has finished. The way the military beat gentle fades as the song ends is particularly chilling. The title track is one of the highlights here, throbbing bass, stark guitar lines and, with Harper almost spitting out lyrics like "Don't tell me I can't break the law/'cause the law has broken me", again the production adds a haunting feel to the song. With Musselwhite's harmonica trading off that addictive bass line, it really is a compelling piece of work. With searing guitar lines complimenting the great man's harmonica work, this song is just crying out to be extended even further than the six minutes given over to the track on the album if it is ever performed live by these musicians. Tellingly the song where Musselwhite's harmonica takes more of a back seat, 'She Got Kick' is the one time where you feel that you have heard it all before and where the song doesn't really lead anywhere. It sounds like all concerned are enjoying their parts but ultimately it is just another blues song. Thankfully the song is followed by the closing track, 'All That Matters Now', a deathly slow blues where Harper proves that he has lost none of his vocal prowess over the two decades he has been recording and it is also another track where the harmonica becomes an integral part of the song which was surely the whole point of the album. Not just another Ben Harper album then but one that by keeping things simple highlights all that is good about this talented multi musician and surely points the way to future collaborations between Harper and Musselwhite.
Track Listing:-
1
Don't Look Twice
2
I'm In I'm Out And I'm Gone
3
We Can't End This Way
4
I Don't Believe A Word You Say
5
You Found Another Lover (I Lost Another Friend)
6
I Ride At Dawn
7
Blood Side Out
8
Get Up!
9
She Got Kick
10
All That Matters Now
Band Links:-
http://www.benharper.com/
https://www.facebook.com/benharper
https://www.youtube.com/user/benharper
https://twitter.com/benharper
https://www.instagram.com/benharper/
Label Links:-
http://decca.com/
https://www.facebook.com/deccarecords
https://twitter.com/deccarecords
https://www.youtube.com/user/deccamusic
https://instagram.com/deccarecords/
Pennyblackmusic Regular Contributors
---