---
published: 7 / 6 / 2011
---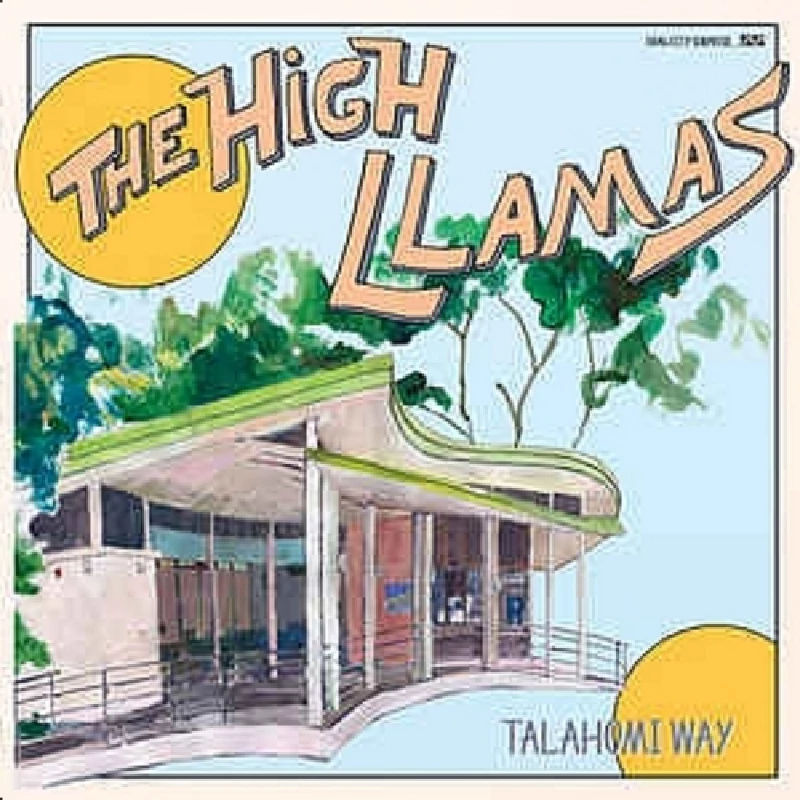 Label: 1234
Format: CD
intro
Lush return to form on latest album from Beach Boys-inspired London-based band, the High Llamas
London based group the High Llamas release their new album 'Talahomi Way'. Formed by guitarist and songwriter Sean O'Hagan, the band can create beautifully crafted pop music. 'Talahomi Way' is something of a return to the form of the High Llamas mid 1990s work like 1996's 'Hawaii'. The High Llamas members include Rob Allum, Pete Aves, John Fell, Marcus Holdaway, Dominic Murcott as well as O'Hagan who individually wrote all the songs on the new album. The song 'Berry Adams' opens the recording with lovely summery sounds, including the distinctive use of strings. The music is Brian Wilson-inspired in the vein of 'Pet Sounds' era Beach Boys- melodic, soothing and enchanted. 'Wander, Jack Wander' employs highly evolved instrumentals, including horns as well as strings. The album is like a miniature classically inspired opus. 'Take My Hand' brings to mind a trip on an ocean cruise, and 'Woven and Rolled' summons the High Llamas' distinctive orchestral pop sound. While the lyrics are not as notable as the melodies here, the words of the title track 'Talahomi Way'evoke travel: "By the time the bus pulls in/The bags have hit the ground in the lobby of a small hotel." The music is at once very 1960s and very coastal California, with an orchestral style that is simultaneously jazzy as well. Sean O'Hagan's signature songwriting remains distinctive. 'To the Abbey' features dancing keyboards and 'A Rock in May' tells a story of the travails of house servants, bringing to mind a garden party in the English countryside. The music here is fanciful and engaging. All in all, on 'Talahomi Way', the High Llamas recapture the charm of some of their earlier Brian Wilson inspired work; an influence that Sean O'Hagan comes back to time and again.
Track Listing:-
1
Berry Adams
2
Wander, Jack Wander
3
Take My Hand
4
Woven And Rolled
5
The Ring Of Gold
6
Talahomi Way
7
Fly Baby, Fly
8
Angel Connector
9
To The Abbey
10
A Rock In May
11
Crazy Connector
12
Calling Up, Ringing Down
Visitor Comments:-
444

Posted By: Tom Rakewell, The secret Fleet, London on 17 Jun 2011
Poor old Sean O'Hagan- with almost every record he & his High Llamas release, the first comparison most people tend to reach for is Brian Wilson & his Californian Beach bums, which says more about critics than it does about O'Hagan & his individual style of writing. Sure, he's as familiar with 'Pet Sounds' as the next consumate songwriter, but his palate draws on much wider influences whilst making the music he creates wholly his own. Van Dyke Parks, Shuggy Otis, Edward Elgar & Jorge Ben are all star players in his dream team & this is no more apparent than on new LP 'Talahomi Way'. 'Berry Adams' is a blueprint in how to engage the listener, with its arrangement's gentle twists & turns that constantly sutrprise & delight the ears. The tastiest track on the album by far is the superb 'Take My Hand', a sing-along sea breeze of a shanty which leads us down to a warm, sun-kissed beachfront, far away from the hussle & bustle of South London; a deceptively powerful & catchy as all hell chorus invites us to run our fingers through the warm sand & turn our backs upon the daily grind so many of us endure. It could be any beach, Rio, Venice or even Southwold- the point here is a lyrical & melodic escapism which is surely what all the best music strives to supply. O'Hagan's string quartet experiments from 2003's magnificent 'Beet, Maize & Corn' are showcased here in the moving instrumental 'Wander Jack, Wander' (as English as marmalade & a cup of Earl Grey), alongside the subtle wind instrument arrangements used to such great effect in the longing of 'Fly Baby Fly'. There's always been a natural jauntiness to O'Hagan's writing, no more so than in the gentle melodicism of 'To The Abbey', probably the only time you're going to hear a harp on any new releases this year. He makes it sounds so easy. Of course, there are the odd moments of California dreaming ('Talahomi Way' & it's Western harmonica springs to mind), but they seem to appear less & less in O'Hagan's work these days...which means all those critics are going to have reach for something other than their usual, knee-jerk West-Coast allusions. Sorry, boys...
---
Pennyblackmusic Regular Contributors
---