---
Robinson
-

England's Bleeding
published: 2 / 3 / 2010
---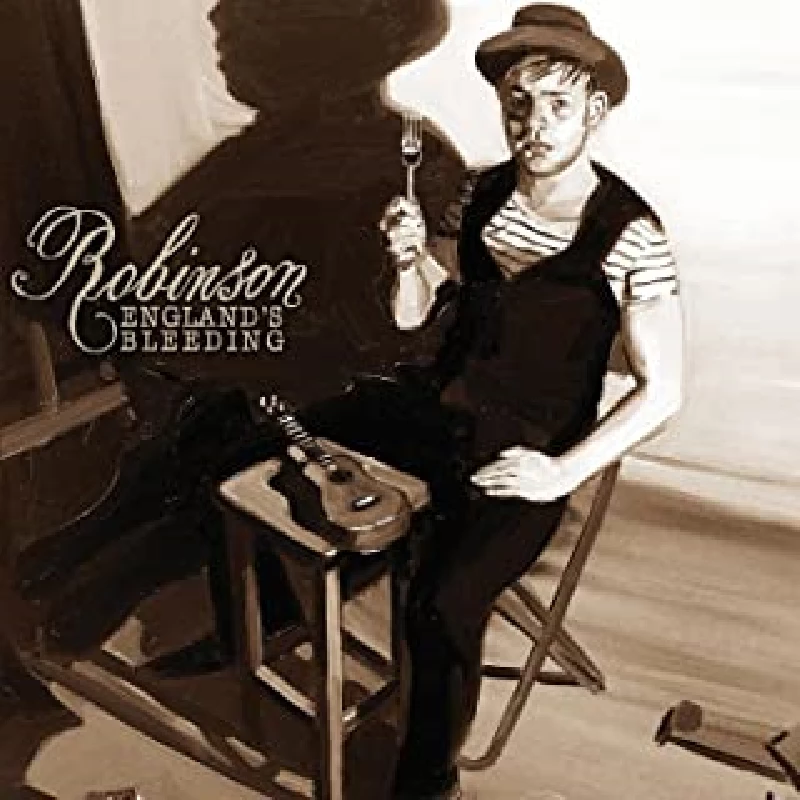 intro
Superbly-crafted and totally captivating debut album from Worcester-based singer-songwriter and musician, Andy Robinson
Worcester's 24 year old troubadour, Andy Robinson, spent three years creating his debut 'England's Bleeding.' The fact that he was broke turned out to be nothing short of wonderful, as Robinson ended up playing clarinet, saxophone, guitar, banjo, glockenspiel, accordion and percussion for this recording. Robinson's grandfather left him his clarinet in his will, and Andy learnt to play it at the age of nine. His family was instrumental in his exposure to the Doors, Hendrix, Mozart and Beethoven. Lyrics that laud the ire and sensitivity of Tom Waits make this a marvellous recording, worthy of much reflection. "I've got to work to feed my belly/But I don't want to work just to buy a big telly" is how we are introduced in 'Forget About It All' to his unfettered, working-class philosophies. "Don't want to live in England anymore/Work, work, work," he continues and the pay-off is the quirky chorus of "I don't know about you/I want to be free like a Romany Gypsy." Incarnations separate as the dirge-like background spins into a Kinks-like pop tune with a sexy splash of tenor saxophone. 'Always Talk to Strangers' bears a similar folksy familiarity, pulling you into his tangled web immediately. "Close the door I'll put the kettle back on when it's raining/Take a seat and put up your feet…it's so freezing," he sings. 'England's Bleeding' however, is where Robinson really opens up your eyes to his pensive inner-anatomy. It is an instrumental cross-fertilization of Klezmer and Django Reinhardt flavoured with a swagger of Tom Waits' Eastern-European influences. Robinson's voice explodes with the cutting-edge of an in-his-prime Louis Armstrong and a violently whispered Waits. Cynical phrases such as "our children are pregnant and our fathers are useless scraps of junk" coupled with a rough-hewn chorus, in which he proclaims his disillusionment towards his native land, connect the irreverent dots. Subsequent songs, like 'Dance' show-off Robinson's softer side. "Show me how to dance like you," he sings, as though floating on a cloud, while wistfully finger-picking his guitar. "There used to be a time when I'd draw you by the lake/I bet there's someone drawing you while I'm still stuck in town," he sings, in 'Stuck in Town.' Robinson does up his classic ballads with grace and vulnerability. 'First Time' paints a poignant picture of finding love at its purest level. "I'm so happy, I almost cry/I don't want this feeling to fade/Maybe this could be the first time I felt love/ Ah, ah, ah, ah, ah, felt love," he sings in this tender doo-wop number. Robinson's flexible voice suddenly recalls Leon Redbone or Loudon Wainwright III. 'Little Ms Darling' is perfectly stated with passions on it running amok. "When I come back, come stay with me/Someday you'll find me, fishing with Jim while John plays the guitar." Possibly the album's most simple track, production wise, but probably the most starkly beautiful, this ballad is brimming with sincerity. 'That's All I Really Want' is Thoreau set to music."I want a place by the sea with a record playing/And an old beaten guitar and a pub down below just to stumble back home." Robinson really takes his time with his lyrics; although he fully captivates the listener by the middle of the story, his beginnings and closures are equally visceral. And, his philosophies continue with 'Happiness'. "Hate lies deep in open wounds/I want something else/Happiness should be caressed/Not depressed, by the sorrow," Robinson muses. At first tranquil, then fired-up and swarthy, crackling guitar splatters Rohinson's voice with richness in this profound confessional. There are a lot of wonderful moments in Andy Robinson's 'England's Bleeding' and they are inextricably bound by superb craftsmanship and harrowing personal discoveries.
Track Listing:-
1
Forget About It All
2
Always Talk To Strangers
3
England's Bleeding
4
Dance
5
Stuck In Town
6
First Time
7
Sunshine When It Rains
8
That's All I Really Want
9
In A Whisper
10
Happiness
11
Little Ms. Darling
12
Someday Somewhere
Band Links:-
https://www.facebook.com/Robinsonsmusic
Label Links:-
http://www.palawanproductions.com/
https://twitter.com/PalawanMusic
reviews
---
Willamina Machine (2013)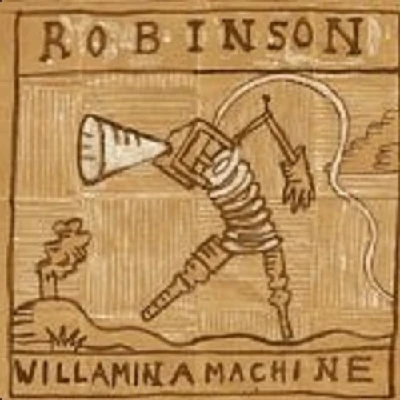 Risk-taking third album from Robinson, the project of much acclaimed singer-songwriter Andy Robinson
related articles
---
Tom Robinson: Photography (2018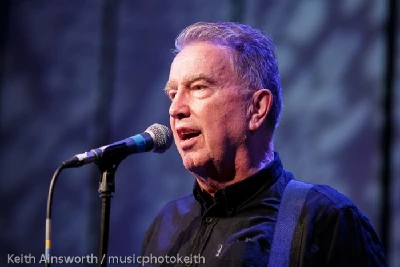 Keith Ainsworth photographs Tom Robinson at a show in in Liverpool to celebrate the 40th Anniversary of his former group the Tom Robinson Band's debut album 'Power in the Darkness'.
Pennyblackmusic Regular Contributors
---