---
Various

-

Brand Neu!
published: 9 / 7 / 2009
---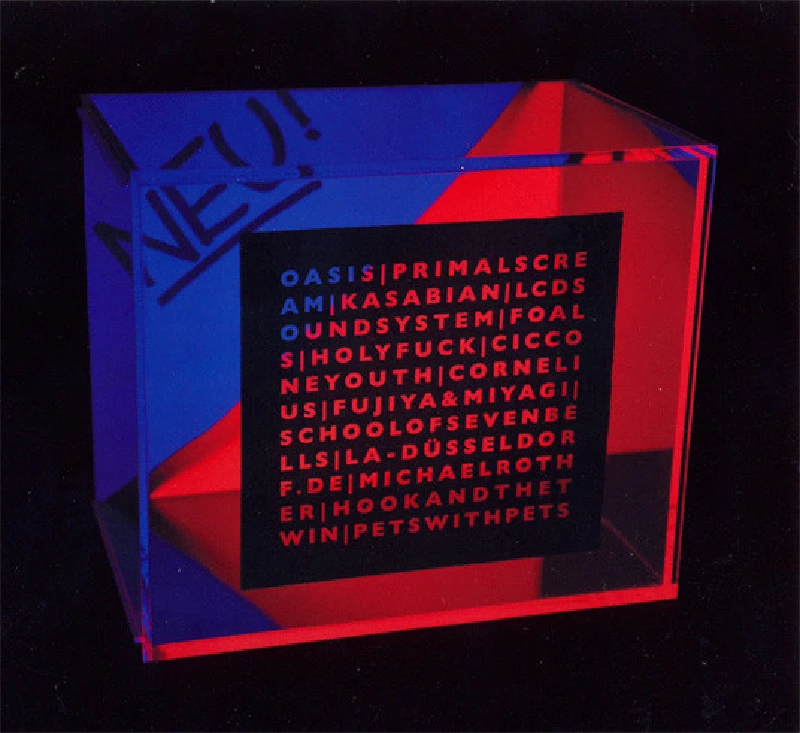 intro
Erratic and uneven tribute album to influential 7O's German experimental group Neu!, which includes contributions from Sonic Youth, Primal Scream and School of Seven Bells
More popular now than at any point during their original tenure, Neu! are cited by everybody from Oasis to LCD Soundsystem as a guiding influence – some with, admittedly, more credibility than others. While Brian Eno and David Bowie took krautrock as their starting point on the 'Berlin Trilogy' ('Low', 'Heroes' and 'Lodger') during the 1970s we now have lesser lights including Kasabian and Foals laying claim to their piece of the pie. And with interest presently running at an all time high it was inevitable somebody would release a compilation of the group's imitators. 'Brand Neu!' – an accidental double entendre suggesting originality but also admitting commercial viability – is the result. The first record released on Feraltone Records – the label founded by the former managing director of Groland Records (which initially re-released the three seminal records – 'Neu!', 'Neu! 2' and 'Neu! 75' – in 2001 on CD for the first time) the disc is a motley collection of the old, new, borrowed and blue. The only original piece included here is 'Device Fuer M' by School of Seven Bells. Headed by Benjamin Curtis (Secret Machines) the group usually content themselves with more orthodox dream pop, but here craft something reminiscent of Neu! fan favourite Hallogallo. Twin sister vocalists Claudia and Alejandra Deheza offer wispy vocal flourishes over a propulsive guitar and drum beat in a not altogether unpleasant piece. The influence on Secret Machines – if not School of Seven Bells – is immediately obvious. Also of interest is 'Sketch 1_08' – by La Düsseldorf, one of the final recordings of original Neu! drummer Klaus Dinger. Carrying the same immense power as Neu! the track is similarly focused into minute detail, suggesting Dinger's power to craft intense, melodic pieces – creating maximum emotional resonance with minimal aural output – had not diminished with the years. Original guitarist Michael Rother is also represented with Neutronics 98 (previously unreleased), but the piece has more in common with the noddling indulgence of 'Dark Side of the Moon' era Pink Floyd than the powerful, wire thin craft of the group in their pomp. Outside of these pieces 'Brand Neu!' is a motley collection indeed. Sonic Youth contribute 'Two Cool Rock Chicks Listening to Neu! in the Ciccone Youth side-project guise. The piece is a rather inconsequential spoken word piece with occasional splashes of noise, and while it sits nicely at the start of this release it is easily forgettable in the grand scheme of things. LCD Soundsystem look strong with 'Watch the Tapes', acknowledging the debt owed to the band and crafting a frenetic dance floor filler, while Primal Scream remain utterly bereft of original ideas, here shamelessly aping the sound of Neu! as once did the Rolling Stones and countless other acts. No wonder Bobby Gillespie was replaced with a drum machine in the Jesus and Mary Chain – it probably had more ideas of its own! Kasabian also do themselves no favours with relentless rather than rhythmic dirge 'Stuntman' – but then, who expected anything more? Overall those who know the original Neu! will find little here to entertain. With so many acknowledging the German group as an influence though it is interesting to see just how deep the group's impact actually runs.
Track Listing:-
1
Ciccone Youth- Two Cool Rock Chicks Listening To Neu!
2
Primal Scream- Shoot Speed / Kill Light
3
Pets With Pets- We Only Found This Place
4
Oasis- Can Y'See It Now? (I Can See It Now!!)
5
Foals- Titan Arum
6
Cornelius- Wataridori
7
Holy Fuck- Super Inuit
8
Kasabian- Stuntman
9
LCD Soundsystem- Watch The Tapes
10
School Of Seven Bells- Device (Fuer M)
11
Fujiya & Miyagi- Electro Karaoke
12
Hook & The Twin- They'll Get Your Head
13
La-Düsseldorf.de- Sketch 1_08
14
Michael Rother- Neutronics 98 (A Tribute To Conny Plank)
Band Links:-
https://generationblitz.bandcamp.com/
https://stateofbassuk.com/
Pennyblackmusic Regular Contributors
---