---
published: 5 / 3 / 2008
---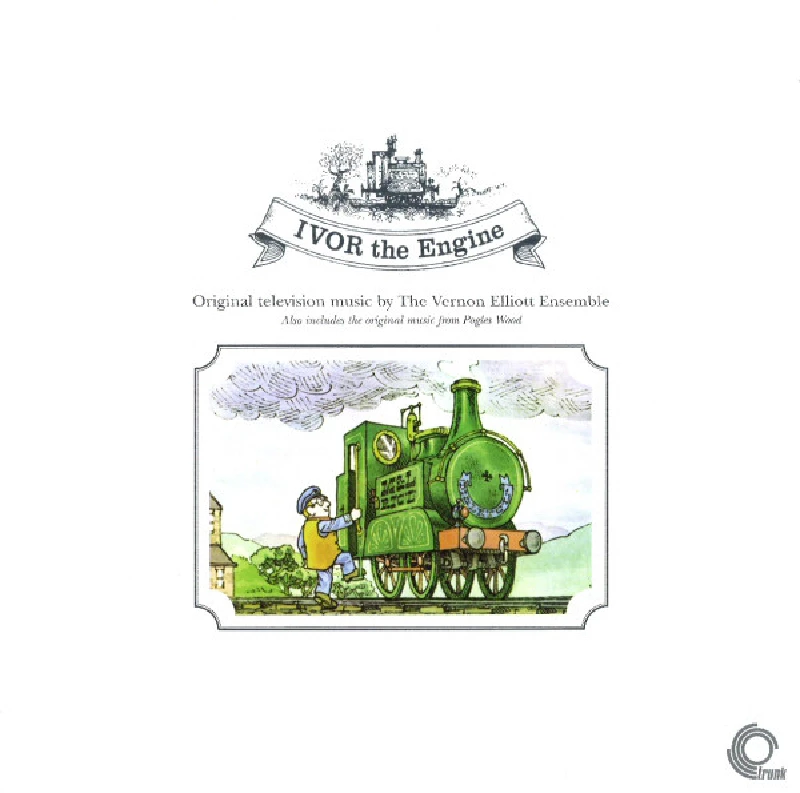 intro
Fine soundtracks from 50's and 60's children's programmes, 'Ivor the Engine' and 'Pogles Wood', which while having nostalgic pull, will also appeal to fans of offbeat folk
Not only has Record Collector contributor and Trunk Records main-man Jonny Trunk done a sterling job over the last few years by releasing on CD Vernon Elliott's music for 'The Clangers' TV series and the compilation 'Fuzzy-Felt Folk' (15 songs aimed at children which took the term "weird folk" to another dimension) he has now made available the music from 'Ivor The Engine' and 'Pogles Wood', also by Vernon Elliott. 1965, and The Pogles, which was then a short series on BBC, was banned as it was deemed too scary because of one of the main 'characters' , namely the Witch. But between 1966 and 1968 'Pogles Wood' was screened as part of 'Watch With Mother'. I can vaguely remember 'Pogles Wood' for two reasons; a friend of mine who obviously had an unhealthy obsession with this children's programme and who could do a very convincing imitation of Mr Amos Pogle and the second reason was the weird but wonderful music that accompanied the show. Prior to 'The Pogles' the music of Vernon Elliott also graced another children's programme, 'Ivor The Engine' which began broadcasting in 1958 and which was remade in colour and shown by the BBC between 1975 and 1977. Jonny Trunk has spent a lot of time pouring over the original quarter inch master tapes of 'Pogles Wood' and 'Ivor The Engine' before finally putting together not just an excellent sounding collection of music but also the usual top-notch presentation we have come to expect from Trunk Records. So much for a short background into the programmes this music originally appeared in, but does the music stand up today and is it of any interest to those who don't remember or weren't even alive when the shows were shown? Well, it's obviously going to bring back memories to those who do remember the series and this strange music that went with it but I have to confess that I had doubts that the music would still sound good without the visuals to accompany it. We all get it wrong at times…Vernon Elliott was a founder member of the Philharmonia Orchestra, a regular player at the Royal Opera House where he was also a conductor and a music teacher who played jazz in his free time, not that you would guess that last fact from the music he plays here. Because of his background maybe I should not have doubted if this music would do anything except bring back childhood memories. The opening 'Main Theme' and 'Cruising Theme' from 'Ivor The Engine' turned a frustrating day into a more relaxed happy time for me and it wasn't due to recalling any particular pleasant childhood memories. It was simply due to the fact these are beautiful pieces of music, well played and produced and sounding nothing like they are 40 years old. A smile did cross my face when Oliver Postgate announces the 'Main Theme' though; a voice from a bygone era that I honestly never thought I would never hear again is coming through loud and clear. Apart from this wonderful music that conjures up times long gone while still sounding fresh today there are sound effects dotted throughout ; 'Donkey Departing', 'Coal' and 'Ivor Chuffing' may be mere snippets but they are fascinating to hear. The songs from 'Pogles Wood' have a little more playfulness about them. They are lighter on the ear and evoke mischievous woodland animals going about their business but 'Witch's Theme' leaves no doubt in your mind just why that character was written out of the show. Again there are various sound effects from the show between some of the tunes. This is an absolutely wonderful release and one that Jonny Trunk should be very proud of. I still can't quite believe how good the sound quality is but having these tunes available on any format and in any quality is something we should be thankful for. There's talk of Trunk Records releasing other music Vernon Elliott made for Smallfilms Productions; 'Noggin The Nog' and 'The Pingwings' are both mentioned in the excellent notes that come with this CD. Here's hoping… Jonny Trunk, I salute you!
Track Listing:-
1
Oliver Postgate Intro And Main Theme
2
Cruising Theme
3
Fast Theme
4
Donkey Theme
5
Cat's Theme
6
Ivor's Jig
7
Effects - Donkey Departing
8
Effects - Coal
9
Effects - Ivor Chuffing
10
Elephant Walk
11
Land Of My Fathers
12
Effects - Ivor Resists Starting
13
Effects - Handling Chain
14
Effects - Get Art Of It!
15
Oliver And Peter Developing Ivor Noises
16
Ivor Short Theme
17
Effects - Ivor Parps
18
Intro By Oliver Postgate
19
1 Retake 3
20
Pogles Walk
21
Pogles Walk Brisk
22
Pogles Run Around Playin "He"
23
7 Take 6
24
Apprehensive Music
25
Untitled Cue From Session One
26
Plant Growing
27
Pogle Into Witch's Theme
28
Effects - Magical Noises
29
Effects - Various Magic Noises
30
Organ Tune For Captions
31
7 Take 2
32
C Take 1
33
King Of Diamonds
34
7 Take 5
35
Untitled Cue From Session Two
36
13 Number 1
37
2 Take 1
38
Piccolo Attempt
39
Untitled Cue No.2 From Session 2
Pennyblackmusic Regular Contributors
---