---
999
-

Death in Soho
published: 19 / 10 / 2007
---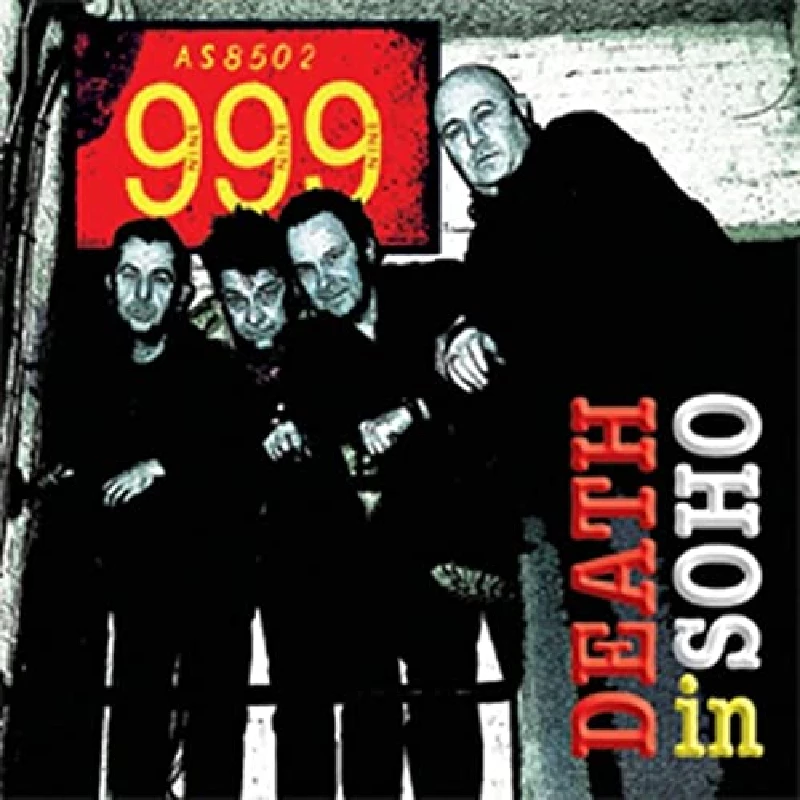 intro
Familiar-sounding, but appealing first album in nine years from 70's punk rock survivors, 999
The front cover of 'Death in Soho', 999's seventh album and first new record in nine years, shows the durable London punks heavier in build and more rugged in face. Musically and lyrically , however, it could be 1977 and 'Homicide' or 'Emergency' all over again. There are songs for the 21st century about cosmetic surgery ('Stealing Beauty') and on the album's closer the Iraqi conflict ('Bomb You'). Otherwise, however, the subject matter of 999's spleen and the band's targets are the same as they have been for the last thirty years-the police state ('Last Breath'), the rich-poor divide ('Too Much Money'), dead-end employment ('The System') and corrupt politicians ('Life of Crime') with one or two tales of relationship grief ('Gimme the World' and 'Get Off the Phone') being thrown in for good measure. Front man Nick Cash has never been pretty-voiced, but makes up for this by being articulate, clear-vocaled and having a rabble-rousing command of presence. He is matched in this and energy by chug-chugging, thundering guitar work from Guy Days and bassist Arturo Bassick, and feisty drum work from Pablo Labritain. 999 may not be doing anything very much very new or which they haven't done before, but, rather like going back to your old school many years on, and finding several of your old teachers still there, there is something very comforting about 'Death in Soho' in its routine and familiarity. Often seen as underdogs during the punk years, 999 may not have had the waspish bile of the Sex Pistols or the cosmopolitanism of the Clash, but have always done what they do well and with a refreshing lack of pretension. It is good to have them back.
Track Listing:-
1
Gimme The World
2
The System
3
Innocent
4
Last Breath
5
99 Days
6
Rock 'n Roll World
7
Get Off The Phone
8
Horror Story
9
Stealing Beauty
10
What Do You Know
11
Deep Peace
12
Too Much Money
13
Life Of Crime
14
The Avenue
15
Bomb You
Label Links:-
http://www.overgroundrecords.co.uk/
https://www.facebook.com/overgroundrecords
Visitor Comments:-
104

Posted By: John, Ayrshire on 28 Jan 2008
There's an energy - and an urgency, in this cd that reminds me why I love music. 999 have long been my favourite band. Does that mean that I'm going to write a fawning review? No. This is a great record- from the opening chords of Gimme The World to the closing notes of Bomb You. I agree with the earlier reviewer - 999 have re-visited some familiar territory - but with such style! Everything that I want on a 999 record is here - the staccato delivery of Nick Cash, Searing guitar from Guy Days - who just gets better as the years pass, running bass lines from Arturo, and the heartbeat of 999 - Pablo Labritain, driving things on when they need to be driven, and slowing things down when they need to be slowed. My favourite tracks seem to change daily - and have been influenced by seeing the band play tracks live recently. Gimme The World - cd opener and forthcoming single, has to be a favourite, as are... Well, I've stopped here as I'd just end up listing every track on the cd. Can't help myself so I'll continue... Last Breath - a rare lyric from the pen of Labritain, is one of the best 999 songs of the last 30 years. The system - a return to the ska sound pioneered on Trouble,is fantastic as is the closing track by Guy Days, Bomb You. I can't imagine anyone with more than a passing interest in 999 not enjoying this record. The word classic is overused - I'm still going to do it. Classic.
---
Pennyblackmusic Regular Contributors
---