---
Various

-

Get While the Getting's Good
published: 9 / 12 / 2006
---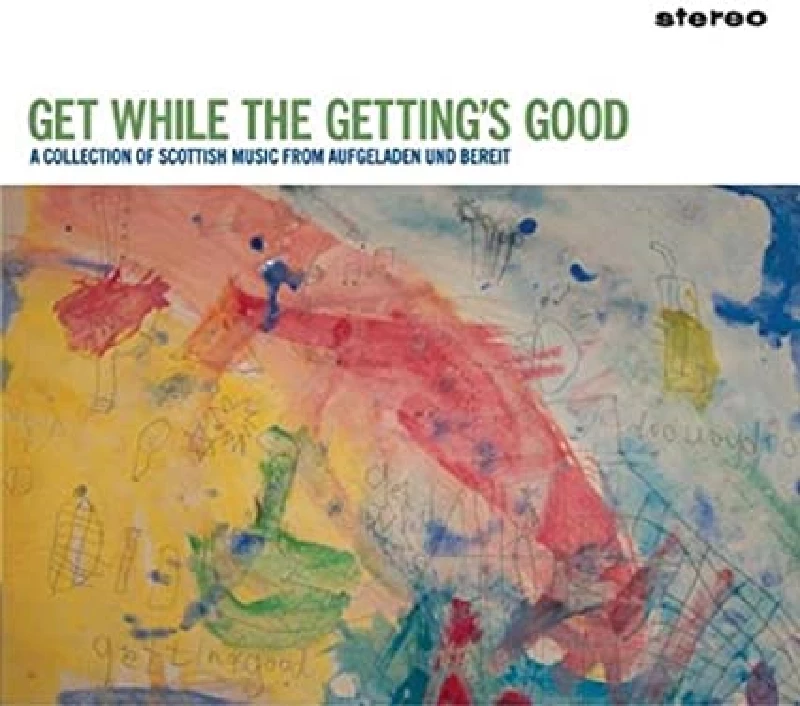 intro
Excellent compilation of exciting indie-pop, rock and folk from some of Scotland's finest bands from German label Aufgeladen und Bereit
This, the third of German label Aufgeladen und Bereit's releases, is a compilation of exciting indie-pop, rock and folk from some of Scotland's finest bands. It gets off to a flying start with the wonderfully drunk (intentionally, I feel) sounding Jock Scot and Gareth Sager, with their song 'Barcelona'. An old country-style guitar accompanies the tale of two nips of whisky costing 100 euros – "which is about 80 quid. For two nips. TWO NIPS". The whistled intro and jolly, gently-bouncy bass-line to 'Behind the Big Clock' (by George Burt and the Raymond MacDonald Quintet and Guests) sets the tone for this brilliantly chilled slice of lounge genius. The sax, the oboes (I think they're oboes) the tap-a-tap drumming; it's all fantastic. It's like the music from the computer game 'The Sims', minus all the tediousness. I'm trying not to go through all 19 tracks in detail, I don't want to take up too much of your time with a simple review, but it's proving very difficult. I'll try my best though: in brief, the best of the best on this compilation are the wonderful Wake the President, 'Hurry Monkey Hurry' by Tibi Lubin, The State Broadcasters, (of course) the ever excellent Camera Obscura, Kid Twist, Found (their song 'Closed Like Time Loops' reminds me of 'Shipbuilding' by Robert Wyatt – I think it's the bass-line), my personal favourites Popup, the Pendulums, the Metro Gnomes, the fantastic Say Jansfield, the retro-but-modern pop of the Secret Goldfish, Down the Tiny Steps and Aufgeladen und Bereit's own Future Pilot A.K.A. Phew! Well, that seems to be almost every track on the record that I deem to be brilliant. Hurrah! Let us all rejoice in the glory of 'Get While The Getting's Good'; apart from a couple of rather generic indie tracks, this is a compilation of untainted musical wizardry. Plug your headphones in, sit down by the fire and treat yourself to a couple of nips (preferably at less than 80 quid).
Track Listing:-
1
Jock Scot / Gareth Sager- Barcelona
2
George Burt & Raymond MacDonald Quintet- Behind The Big Clock
3
Wake The President- Mail, Alice.
4
Bricolage- Flowers Of Deceit
5
Tibi Lubin- Hurry Monkey Hurry
6
The State Broadcasters- My Binoculars
7
Camera Obscura- Tears For Affairs
8
Kid Twist- March Of Guitars
9
Found- Closed Time Like Loops
10
Automations & The Ons -Pearl E 14
11
Popup- A Year In A Comprehensive
12
Endor- Hold On
13
St Deluxe- Chemical Reactions
14
The Pendulums- Brand New Song
15
The Metro-Gnomes- I Should've Known
16
Say Jansfield- A Sad Past
17
The Secret Goldfish- Outrageous Things
18
Down The Tiny Steps- Handstand
19
Future Pilot A.K.A. V Concerto Caledonia- Elephants
Pennyblackmusic Regular Contributors
---