---
Various

-

Out There: Wild & Wondrous Roots of Rock 'n' Roll, Vol. 2
published: 24 / 9 / 2006
---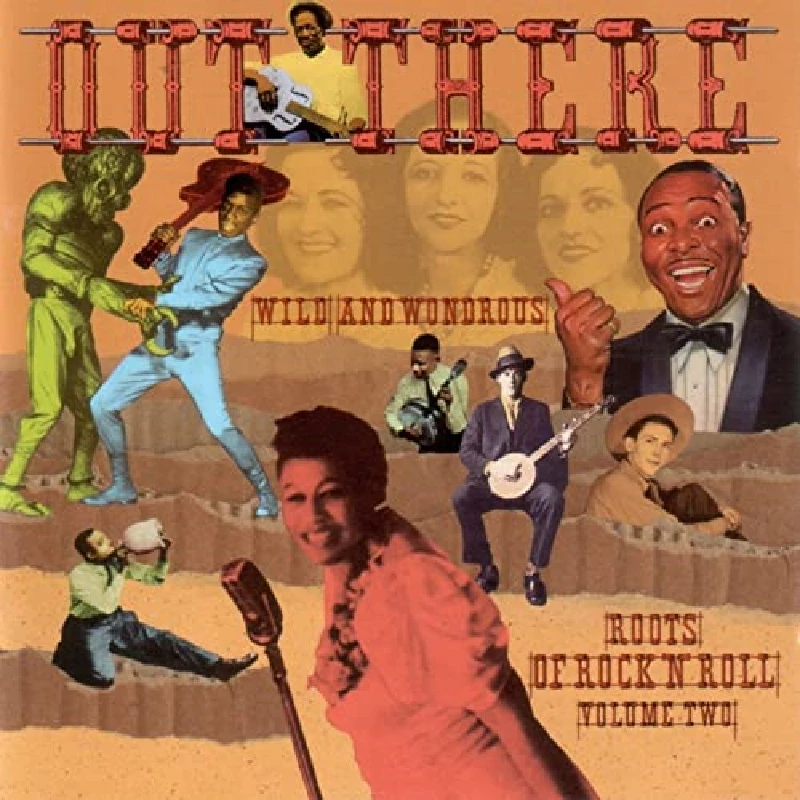 intro
Thought-inspiring second compilation from Liverpool's Viper label examining the roots and origins of rock 'n' roll
As much as I would like to agree with the press sheet for 'Out There Volume 2' - and I guess I hereby put the challenge on the very wonderful Viper label from Liverpool - but the omission of French Brittany's music in a compilation of pre rock'n roll music ought to get corrected on Volume 3. That's right, the 'Out There' series captures the roots and very origins of rock and roll, going well beyond the limits of K-Tel Alan Freed LPs. The jiggety-jive that made rock and roll is said to originate from the sailors who brought the accordéon from 'Bretagne' to the swamps of Lousiana. It was only years later that I came to realize why as a kid I had enjoyed the music of the yearly Douarnenez (Bretagne) Festival so much. I knew of Elvis of course but then I heard where the rhythm had come from. Pancake-eating Celts from what is nowadays France sort of invented it all. 'Out There Volume 2' picks up from when the tribal rhythms of West-African slaves started to merge with the slides of the swampy blues. The compilation works anti-chronologically: kicking off with a magnificent 'pow-pow' Johnny Guitar Watson instrumental from the 1950's. Yet before you start to think you're in for a pub session, 'Out There Vol.2' leads to a comprehensive selection of the songs and tracks which came to form rock'n roll. Ella Fitzgerald is on here for example, as is the boogie woogie of the Will Bradley Trio. Much, if not everything on 'Out There Volume 2', will come as a surprise. Few of the artists included actually count as pioneers of rock'n roll but judge for yourselves! The proof's out there.
Track Listing:-
1
Johnny Guitar Watson- Space Guitar
2
Lightning Slim- She's Gone
3
The Harlem Hamfats- Oh Red
4
Ella Fitzgerald- Two Little Men In A Flying Saucer
5
Mississippi Jook Band- Hittin' The Bottle Stomp
6
Will Bradley Trio- Down The Road Apiece
7
Hank Williams- Rockin' Chair Money
8
Louis Jordan And His Tympany Five- Saturday Night Fish Fry
9
The Boswell Sisters- Rock And Roll
10
Chet Atkins- Oh By Jingo!
11
Samantha Bumgarner And Eva Davis- Big-Eyed Rabbit
12
Huichol Tribe- Peyote Dance
13
Rev. Edward W. Clayborn- Let That Liar Alone
14
Billy Briggs- Alarm Clock Boogie
15
Wanda & Ruth Neal- Round Town Girls
16
Son House- My Black Mama Part One
17
Little Jimmy Dickens- Rockin' With Red
18
Dock Boggs- Country Blues
19
Dirty Red- Mother Fuya
20
Picaninny Jug Band- You Got To Have That Thing
Pennyblackmusic Regular Contributors
---