---
Various

-

Warped Tour 2006
published: 23 / 9 / 2006
---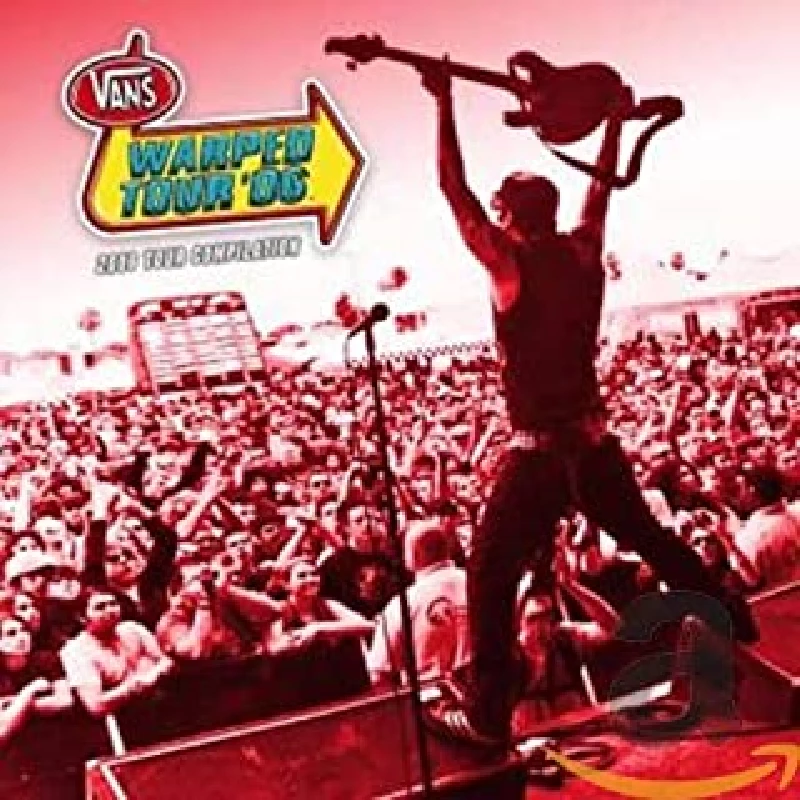 intro
Latest Warped Tour punk compilation which includes tracks from Anti-Flag, the Casualties, Matchbnook Romance, Flogging Molly, NOFX and Saces the Day
The Warped Tour used to be one of the only chances for younger punks to unite on a grand scale. Nowadays a greater number of similar tours exist, but none quite have the name, and certainly none the size, to knock Warped off top spot. Now attracting a wider audience, most notably recent converts from the Blink 182 era, the twelfth Vans Warped Tour has recently kept itself to the States to the disappointment of the European fan base. It is through the inevitably spawned merchandise, of which one part is the now famous music compilation series, again produced by record company Side One Dummy, that Europe gets its taste of the tour. The need to make this series as attractive as possible has led to it being spread across two discs. Morsels these may be but then, with fifty bands on offer, there's going to be something for everyone. It is immediately evident that many artists on this record do not appear at the Warped shows but, with some previously unreleased material from a range of top punk bands, that's no real problem. Last year's release saw a mix of sounds throughout the two discs, yet this year the general sound of disc one is a lot heavier than its packaged cohabitant. Those happier with a more melodic edge will quite happily listen to the first half of disc two, over and over, as the list of tracks is impressive, kicked off by 'No Future' from Anti-Flag and continued in fine form by The Casualties' original punk in 'Under Attack'. This is about as true to punk's roots as the album gets but, then again, no one really expects that of this particular tour. Disc one opens with 'The End' by Saves the Day, which, despite it having some energy, fails to immediately set the album alight. Fortunately we soon saved by a NOFX track, 'Wolves in Wolves' Clothing', a band always popular on records such as this. Joan Jett and the Blackhearts follow soon after, providing the album with this rarity of well-recognised female fronted punk rock bands. It is perhaps the latter of these genre-defining words that applies most to this track and, although exhibiting confidence, does not quite have the panache required to make full impact. The Riverboat Gamblers truly get things moving again and with gypsy punks Gogol Bordello making an appearance in 'Not a Crime', full of verve and swagger as can be expected, one realises this compilation is going to cover everything punk…except for ska. The real standout track is Rise Against's 'Everchanging', a well-balanced, acoustic and emotionally charged track: one of the best in this category in recent years. As can be expected, the usual high quality comes from Flogging Molly in 'Laura', and Against Me!, who provide a vocally raw but tuneful addition to tracks from Christian punk rock band Relient K and the post-hardcore Matchbook Romance. Both discs see lesser known bands making a name for themselves, most notably with the fine pop punk tune from All Time Low, a track of which elements would typically be soundtracked to an American coming of age movie. This should in no way detract from its charm. Moving towards the album's final quarter, Good Riddance supply 'Shame' from their excellent seventh album, 'My Republic', adding real bite as Russ Rankin's band shows how melodic punk should be played. Compilations normally have their faults, whether it be the inclusion of sub-standard tracks or the poor alignment of similar sounds, but the 'Warped Tour 2006' record stays away from much of these mistakes. As a result, and also taking into account the budget price, it is well worth picking up. There are some great tracks and whilst all won't be to everyone's liking, they are still good enough to let run if time is of no particular issue. A much changed line-up from 2005's release helps to clearly distinguish this from its predecessor, rather fortunate given some of last year's anomalies. For those looking for the same style of music, it might be wise to stay away from this release. Yet, for those wanting to sample more of punk's variations, then the 'Warped Tour 2006\ compilation easily lives up to those desires.
Track Listing:-
1
Saves The Day- The End
2
Underoath- Moving For The Sake Of Motion
3
Matchbook Romance- My Mannequin Can Dance
4
NOFX- Wolves In Wolves' Clothing
5
Flogging Molly- Laura
6
Joan Jett And The Blackhearts- Five
7
Riverboat Gamblers- Don't Bury Me...I'm Still Not Dead
8
Armor For Sleep- Remember To Feel Real
9
Helmet- Bury Me
10
Gogol Bordello- Not A Crime
11
The Matches- My Soft And Deep
12
Moneen- If Tragedy's Appealing, Then Disaster's An Addiction
13
Chiodos- The Words "Best Friend" Become Redefined
14
American Eyes- The Girl With The Broken Heart (By The Way)
15
Valient Thor- Sticks And Stones
16
Somerset- Rhyme Over Reason
17
Protest The Hero- Heretics & Killers
18
I Am Ghost- We Are Always Searching
19
VCR- Do You Wanna Triumph
20
All Time Low- Coffee Shop Soundtrack
21
So They Say- Antidote For Irony
22
Maxeen- Block Out The World
23
Time Again- Black Night
24
Slightly Stoopid- Nothin Over Me
25
Eight Fingers Down- Everything
26
Anti-Flag- No Future
27
The Casualties- Under Attack
28
From First To Last- The Levy
29
Relient K- Which To Bury, Us Or The Hatchet?
30
Rise Against- Everchanging
31
Motion City Soundtrack- When You're Around
32
Against Me- From Her Lips To God's Ears
33
Bouncing Souls- Midnight Mile
34
Bedouin Soundclash- Rude Boy Don't Cry
35
The Academy Is... -The Phrase That Pays
36
ZOX- Thirsty
37
Hellogoodbye- All Time Low's
38
Love Equals Death- Bombs Over Brooklyn
39
Paramore- Emergency
40
Vanna- A Dead Language For A Dying Lady
41
Crash Romeo- Actions Not Words
42
Good Riddance- Shame
43
Escape The Fate- Ransom
44
Every Time I Die- The New Black
45
Royden- Broken Star Satellite
46
Scotch Greens- Professional
47
Roses Are Red- Failing
48
The Banner- Venom And Hope
49
The Expendables- Set Me Off
50
Los Kung Fu Monkeys- Short Fuse + 1 Other
Pennyblackmusic Regular Contributors
---