---
published: 29 / 5 / 2006
---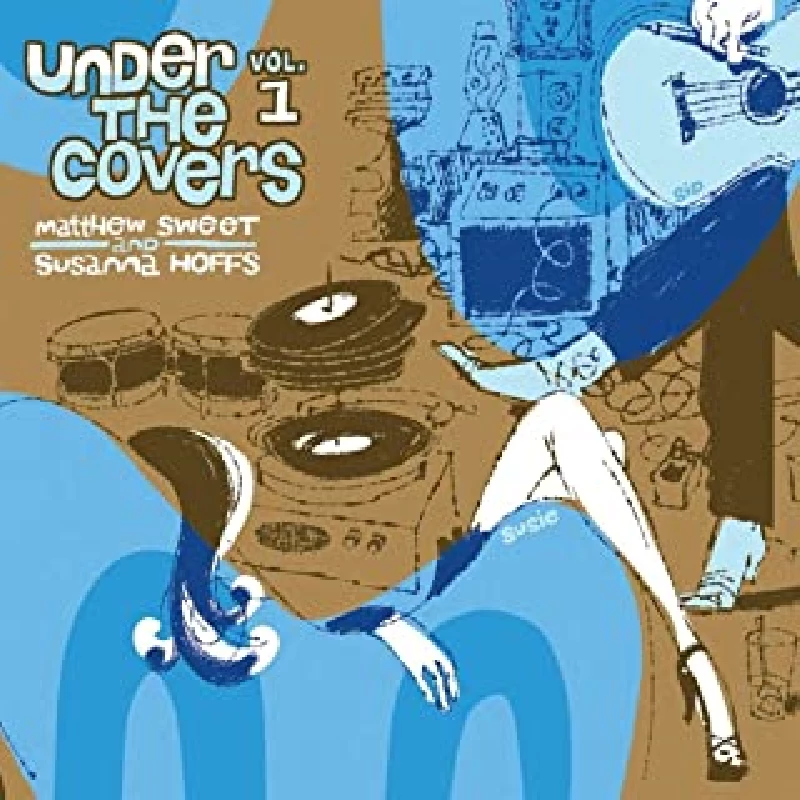 intro
Fantastic, inspired collection of 60's and early 70's covers from the under-rated Matthew Sweet and Bangles singer Susanna Hoffs
With a title like that we can only hope that there will be a Vol. 2 at some point. If it is half as good as this collection it will be worth the wait. Matthew Sweet finally seems to be getting some well deserved recognition, with the imminent reissue of an expanded version of what many consider to be his best work, 'Girlfriend' ( they're wrong, 'In Reverse' wins every time) and Susanna Hoffs has always been underrated, probably because she was in the Bangles. Hoffs has, apart from looking so good, a fantastic pop voice. No one would deny that Chrissie Hynde of the Pretenders also has that perfect pop sound but why Hoffs isn't praised more is one of pop's mysteries. This project has been called 'Sweet and Hoffs '60s Pop Primer', their versions of 'Smash Hits and Rediscovered Gems' which is not entirely correct as The Bee Gees 'Run To Me', which is one of the covers here, didn't appear until 1972, but that's just nit-picking as this collection has obviously been put together with a lot of love and attention to detail. The 60's design of the CD cover and the CD notes reflect the fun and innocent times of that period. They've even got Van Dyke Parks to play on a couple of songs. The duo have done little to change the songs. There are no radical re-workings here, just straightforward covers which manage to capture the beauty and innocence of the originals and that's not as easy as it might sound. Although the songs that weren't 'smash hits' are not as undiscovered as Hoffs and Sweet might like to think they are their selection of songs is inspired. Mike Nesmith's 'Different Drum' has been covered many times, but it's the Linda Ronstadt fronted Stone Ponies version the duo take their inspiration from here. It's a song which is ideally suited to Hoffs' vocals, much like her cover of 'To Sir With Love' on her self titled album from 1996 was. With outstanding chiming guitar work from Greg Leisz it really is a highlight on the album. The album starts with a version of Marmalade's 'I See The Rain' which has long been rumoured to be Jimi Hendrix's favourite song from 1967. With searing lead guitar from Television's Richard Lloyd and Sweet the duo have turned the song into the psychedelic masterpiece it always thought it was. From there it just gets better and better, with the possible exception of that Bees Gees cover at the end of the CD, that is. While I couldn't agree more with the comments that the Bee Gees don't get enough respect that is made in the CD notes, a song, almost any song, from Bee Gees '1st', would have fitted in more than the cover of 'Run To Me' and that's not just because of the time period, that whole album deserves to be covered with the loving care shown by this duo on the songs here. There's two Neil Young covers, of course, 'Cinnamon Girl' and 'Everybody Knows This Is Nowhere'.The latter was also covered by Dar Williams recently on her 'My Better Self' album but Sweet and Hoffs sound like they are having a lot more fun with the song than Williams did. Their version of Sandy Denny's 'Who Knows Where The Times Goes' (again also recently covered, this time by Susan Cowsill) maybe doesn't match the beauty displayed in Cowsill's version but is a real showcase for Hoffs to show just how good and underrated her vocals are. Sweet and Hoffs harmonies are simply outstanding on this track. The most unexpected cover is the Who's 'The Kids Are Alright' with Sweet playing all the instruments except for the drums (which are taken by Ric Menck throughout the album) and proving once again just what an excellent and underrated guitarist he is. But best of all is the duo's version of the Zombies greatest moment, 'Care Of Cell 44'; strange to hear a female taking the lead vocals after all these years but Sweet and Hoffs have those harmonies down perfectly again. For once we have a covers album that sounds like it was fun to make and not one that just makes you run for the originals. Roll on Vol. 2.
Track Listing:-
1
I See the Rain
2
And Your Bird Can Sing
3
It's All over Now, Baby Blue
4
Who Knows Where the Time Goes?
5
Cinnamon Girl
6
Alone Again Or
7
The Warmth of the Sun
8
Different Drum
9
The Kids Are Alright
10
Sunday Morning
11
Everybody Knows This Is Nowhere
12
Care of Cell 44
13
Monday, Monday
14
She May Call You up Tonight
15
Run to Me
16
Village Green Preservation Society
17
I Can See for Miles
Band Links:-
https://www.facebook.com/sidandsusie
https://twitter.com/susannahoffs
http://www.matthewsweet.com/
http://www.matthewsweet.com/
https://plus.google.com/+MatthewSweet/posts
https://twitter.com/iammatthewsweet
Pennyblackmusic Regular Contributors
---