---
published: 28 / 5 / 2006
---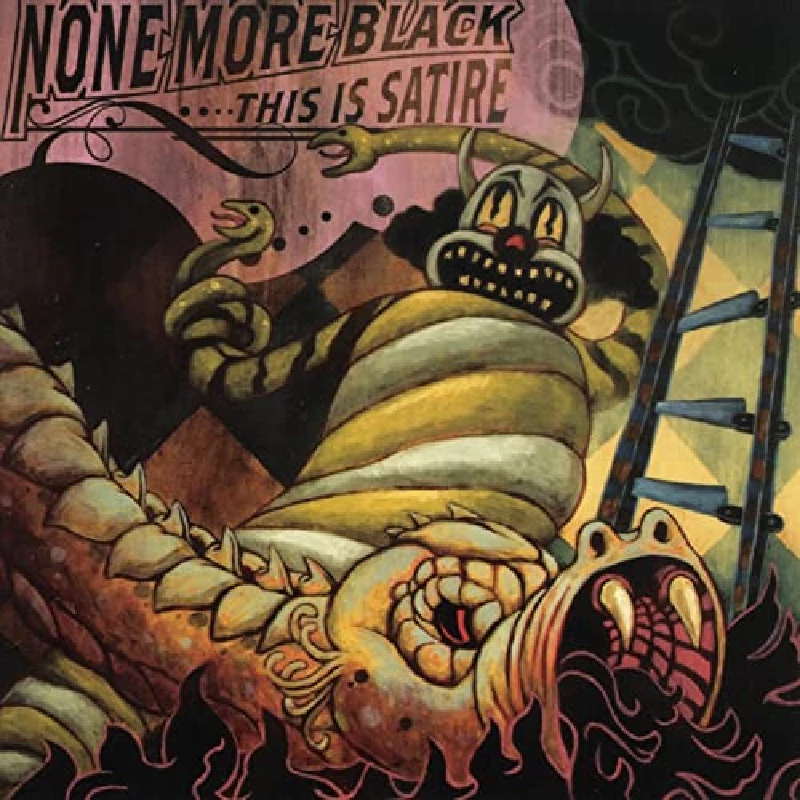 intro
Frustrating third album from rock 'n' roll and country influenced punks, None More Black
None More Black formed shortly after the turn of the century, releasing 'File Under Black' and 'Loud About Loathing' along the way. After a three year absence, 'This is Satire' is the band's new full-length album; a thirteen track release on the Fat Wreck label. The band's four members: Jason Shevchuk (vocals/guitar); Paul Delaney (bass); Jared Shavelson (drums); and Colin McGinniss (guitar) combine well to produce a sound that is a lot more real than a lot of releases and gives the impression that production has been kept to a minimum: it's about time we returned to this. Former Kid Dynamite frontman Shevchuk's vocals are tantalisingly raw but as a result the lyrics are disappointingly hard to make out. What's more, this is certainly not the vocal sound you'd expect to find set against this music as it moves into the melodic more often than the dissonant. Essentially, 'This is Satire' performs on it's melodies and cleverly crafted tunes, imposing a strong rock 'n' roll influence over clear punk elements. This is supplemented by bouts of country inspired music in songs such as '10 Ton Jiggawatts' and 'Majestic'. With an inspired opening in 'Dance on the Ruins', aside from taking too much time in tailing itself off, the album falsely indicates 'where it is due to go. It gives the impression that 'This is Satire' will be thoroughly energetic, which it rarely turns out to be. Ah, perhaps I'm just being picky: let's let that one slide. This is certainly not an admission further in when the listener is confronted with a few frustrating moments, where everything sounds good and then, inexplicably, the band jump into a more pop-based sound. As opposed to previous None More Black releases, these moments are fortunately few but still act to the detriment of the overall sound. 'This is Satire' works best with the catchy guitaring in 'With the Transit Coat O'n, a song that contains the crowd pleasing backing lyrics of 'hey-hey' and makes the most of the band's talent. Yet, this track deplorably rolls into a terrible opening in 'Opinions and Arseholes' and undoes some of the excellent work just before. Further, the listener comes across a couple of ballads that don't particularly work given None More Black's style: they just feel too slow and hold up the rest of the songs on the album, therefore forming prime candidates for an applied touch of the 'skip' button. Whilst 'This is Satire' isn't the best album released on Fat over the years it has enough about it to justify its release. The album gives the feeling that None More Black have progressed little since their inception, rather choosing to sit within their own punk niche. It sounds better after several listens but never quite establishes itself as high quality. This isn't quite the pop-punk the kids go for nowadays, and is far from the old-school punk of the older generation, it simply sits aside from it all, attracting its own clique of devotees intent on engaging themselves within this music now rather than anytime in the future.
Track Listing:-
1
We Dance on the Ruins of the Stupid Stage
2
Under My Feet
3
My Wallpaper Looks Likepaint
4
Zing Pong
5
With the Transit Coat On
6
Opinions & A**holes
7
I See London
8
Who Crosses State Lines Without a Shirt?
9
D Is for Doorman (Come on In)
10
10 Ton Jiggawatts
11
You Suck,! But Your Peanut Butter Is Ok
12
Yo, It's Not Rerun
13
Majestic
Pennyblackmusic Regular Contributors
---