---
Various

-

Derby
published: 12 / 6 / 2004
---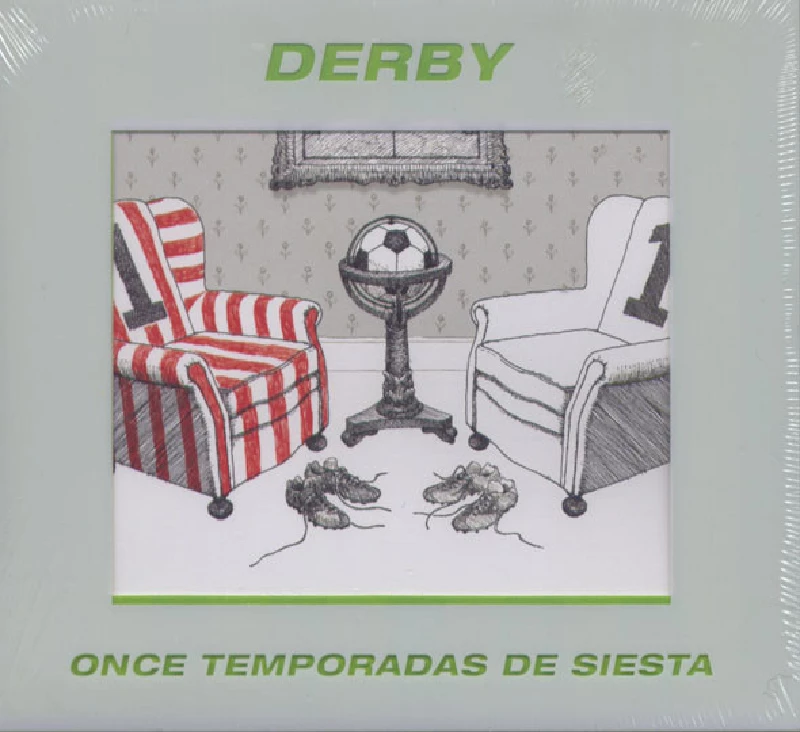 Label: Siesta
Format: CD X2
intro
Sprawling, occasionally appealing double CD, with loose football theme, from the Spanish indiepop label Siesta, released to coincide with their 11th anniversay
Together with Elefant, Siesta is the most internationally acclaimed Spanish indie label, and after 12 years in the business, they thought that it might be time for a look in the rear-view mirror and this 2CD compilation is the result of that. As the packaging is the first thing you see when you take a first look at a new record, I might as well begin my review there, and I must say that they have done a really fine job with this one! The foldout digipak package is housed in a clear PVC slipcase, everything with football as its theme, and to top it all off, you can choose from 12 different front covers, designed by the label's favourite artwork designers. Luxurious! So, on to the music. I have always thought that Siesta is a bit too fond of the bossanova-influenced part of indiepop, something that I don't like very much. And with this compilation, I can see that I am quite right, sadly. Most of the Spanish bands here, with just a few excpetions. play music that easily could be placed in that category. Instead, it's the foreign acts that impress me the most, which is kind of sad, as I have heard most of them before. One of the main attractions with compilations such as this is to discover new bands, but I'm afraid that is not the case here. Among the top rank on 'Derby' are Fantastic Something, Hunky Dory and Scarlet's Well. All in all, this anniversary release is an average indiepop compilation, but those of you who have bought Siesta's earlier records in the past will not be disappointed. I can promise you that!
Track Listing:-
1
Rita Calypso- Paper Mache
2
Barón De Tagomago- Enamorado
3
Kahimi Karie- Giapponese A Roma
4
Death By Chocolate- Cutoutgirlscout
5
Sunshine Day- Sandcastles
6
Edwin Moses- I'll Be Around
7
Swan Dive- A Few Thousand Days Ago
8
La Buena Vida- Mirando Atrás
9
Scarlet's Well- Luminous Creatures
10
Vigil- Sunrise Café
11
Bathing Beauty- Castles In The Air
12
Fantastic Something- Different Sounds
13
Maria Napoleon- Viva La Muerte
14
The Barry Gemso Experience- Every Single Day
15
Mr. Wright- Ana Karina
16
Kiki D'Aki- Adiós
17
Loveletter- Barbarella
18
The Lorraine Bowen Experience- Julie Christie
19
Plastic D'Amour- La Cachette
20
Beaumont- Friends In Flares
21
Lollipop Train- Johnny, Johnny
22
Hunky Dory- We've Got Each Other
23
Lollipop Train- Teenage Trifle
24
Scarlet's Well- Night Of The Macaw
25
The Magic Whispers- Fly
26
Swan Dive- Words You Whisper
27
The Free Design- Kites Are Fun
28
Vigil- Fantasía
29
Ramón Leal- O Orvalho Vem Caindo
30
Malabella- Metti Una Sera A Cena
31
Margo Guryan- Love Songs
32
Plastic D'Amour- Télé
33
Edwin Moses- (I'm Feeling) So Much Better
34
La Buena Vida- Qué Nos Va A Pasar
35
Mild Euphoria- Knight's Castle
36
Beaumont - Girls And Maths
37
The Happy Balloon- Among The First To Know
38
Constantin Veis- Run Again Tom Sawyer
39
Bel Divioleta- Cuando Yo Era Pequeña
40
Real Carioca- Telefone
41
Viva Maria- Love Me!
42
Jason Crest - This Bouquet
43
Milky - Travels With A Donkey
44
Pastel Vespa- L'Anarchie Dans L'UK
Band Links:-
https://generationblitz.bandcamp.com/
https://stateofbassuk.com/
Pennyblackmusic Regular Contributors
---