---
published: 18 / 5 / 2004
---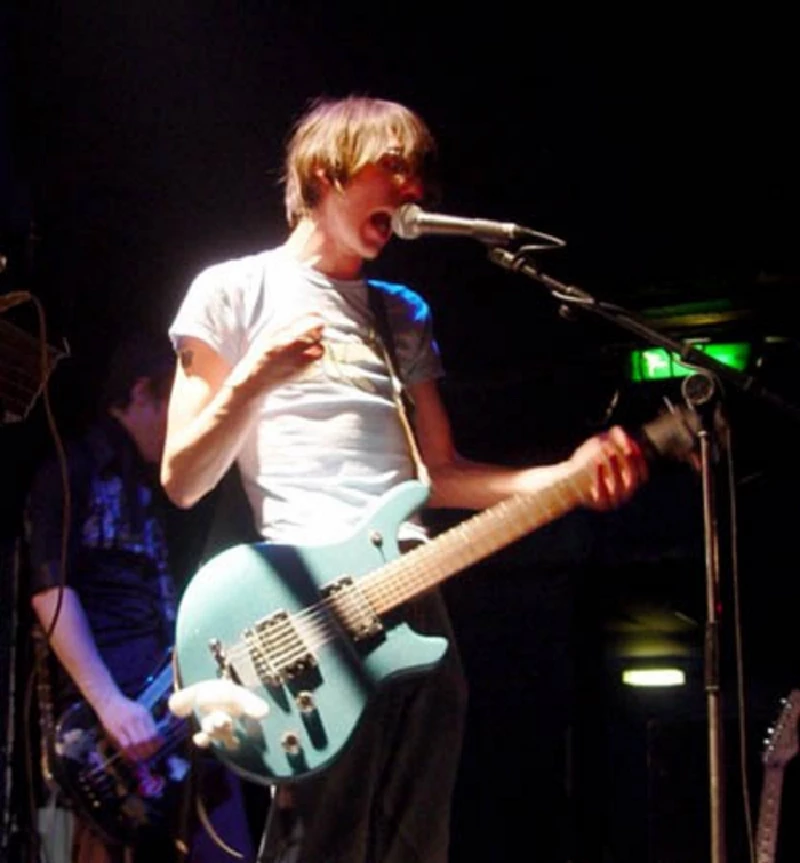 intro
One of the leading lights in the indie pop genre. Norwich-based group Bearsuit recently released their debut album, 'Cat Spectacular !' Back for second interview with us,they talk to Tommy Gunnarsson about its success and where they plan to go next
I think that if you have heard Bearsuit, you will remember them. This group of men and women from Norwich makes the best noise you have heard for ages, and a few months ago, they released their first full length album, Cat Spectacular!", on Fortuna Pop!, following the success with their three sold-out 7" singles released on the Sickroom Gramophone Collective label. We decided to catch up with them once again and see what was on their minds. So, over to Lisa Horton, Cerian Hamer, Matt Hutchings, Iain Ross, Jan robertson and new recruit Richard, aka Bearsuit PB: How did Bearsuit form? Did you play in any bands previous to this one? Lisa: Well, Iain and I used to be childhood sweethearts at school. We decided to buy electric guitars with the idea of learning to play them and then starting a band. I couldn't play mine very well so I got a keyboard instead but Iain soon got the knack. We met Jan in Norwich at university. Then Iain and Jan started working in a bookshop together along with Cerian. We needed a drummer and one day Cerian said her boyfriend could drum so he joined too. Then she mentioned she could play every instrument under the sun so she joined as well. Am I rambling? Oh yeah - we used to go to school with our old bass player Matt but he left at the start of this year and we've got a new guy now called Richard who was friends with Jan. He's very good and turned up to his first practice knowing the songs better than we did! Cerian: I used to play in my school brass band, my school orchestra, a brass band on Saturday mornings and a youth orchestra in the evening...yup it was that dull in the Midlands. Matt hade played in bands before. Jan has played in school orchestras, and Richard has played in bands too. PB: Where did the name Bearsuit come from? Lisa: The depths (spellcheck!) of Iain's deeply wrong mind! We had about 60 or so possible names and then Bearsuit came up as the best at a drunken party. We came this close to nearly being called the Toes! PB: I have read in some of your older interviews that you planned to release an album containing the first EP's. Is that still in the works? Lisa: Yeah - it was all ready to go with art work and everything but our old record label Sickroom Gramophone Collective went under for a while and it never got released. The label has since started trading again so you never know - it could be released yet, we'll wait and see. At the time it was really dissapointing but we've moved on, released 'Cat Spectacular' which we're a lot happier with in general, and I guess It'd be a bit weird to see it come out now. Like we were taking a step back. PB: What's the worst gig you have ever played ? Lisa: Um, we played a god awful one in Liverpool once. The venue's soundman didn't turn up and we had to sort it out ourselves. We couldn't hear anything that was going on and then Iain smashed his guitar on stage in fury. Then he got embarrased. Then he mourned the loss of his only guitar all the way home. Oh and we had a, er, fracas with the venue manager because he wouldn't pay us. Needless to say, they'll never mess us bears again. PB: And on the contrary, what's the best gig so far? Lisa: Definitely playing in Sweden last year - It was just mental. We had proper teenage fans who crowdsurfed and knew all the words to our songs. They were all shouting them back at us like at a proper rock stadium gig. Matt: And Happy Robots in Reading. PB: What influences do you have as a band, if you have any? Both lyrically and musically... . Can you describe the way a Bearsuit song comes to life? Lisa: One of the biggest inspirations has been just living in Norwich and being surrounded by all this weird experimental music that often never gets heard anywhere else because the roads are too wiggly. Listening to John Peel and getting mix tapes from friends too. Iain: Most of our songs are set in a time and place a bit like ours -there are still people like George Bush and Hitler there, but also spaceships and giant robots and zombies/ PB: Why did you record a Finnish version of 'Hey Charlie, Hey Chuck'? Lisa: We wanted to do something different for a Peel session and we thought it would be appropriate. I'm half Finnish and I got my mum to help translate it. PB: When I listen to your records, I get the same feeling I get when I saw you perform live in Sweden last summer... that it's all very chaotic and shambolic. And great! Do you record your songs live in the studio? Lisa: No way - each bit is like, 316 takes! We've wasted years! Cerian: Most of the time if we can add an extra instrument to a song then we will - around Christmas this is usually always sleigh bells. Iain: 'Diagonal Girl' took about half an hour to do. It shows, doesn't it? We're friends with our producers Owen and Phil, so they tolerate our 'experimentation' PB: Would you be interested if a major label offered you a deal? Lisa: Hell yeah! Iain: Hell no!! Matt:No! Jan : No!! a nice independent with some money would do! PB: Can you make a living out of your music, or do you have to have regular, boring daytime jobs? If so, what do you do for a living? Lisa: Journalist Iain: Me and Jan sell books to children. We don't know why. Matt: Molecular biologist (not boring at all!). Cerian: Marketing for a music charity Richard: I'm a project officer for a community group. No, I don't know what it means either. PB: Would you like to be the biggest band in the world, or are you quite happy with your current success? Lisa: I'm so happy we've had as much success as we've had. So many bands just don't really get anywhere at all so we've been really lucky. Of course it would be nice to be able to quit the day job though! Jan: Mind you we had trouble surviving 4 gigs in a row over Easter, never mind a full on world tour or even just the UK. We're hopeless! PB: What was the deal with the Sickroom Gramophone Collective ? Was that your own label? Lisa: No - It was the record label we used to be with. It stopped running for a while but has now started up again with occasional releases. We have a label called Bearslut Records and we hope to put out the best music around when we're a little richer! PB: What does the future look like for Bearsuit? Lisa: Rosy Iain: Grimey, but with a bit of metholated spirit and a big chip butty, we'll be as right as rain... Jan: Mmm chip butties... or egg banjos [drools] PB : Finally...Can each member please give me a recommendation for a book, a record and a movie? Lisa: Oh, I'm rubbish at this. I can barely read, never buy records and just go for embarassingly rubbish romantic comedies. Iain: Book - I'm obsessed with Philip Pullman's 'His Dark Materials' Trilogy' at the moment. It's for kids but good for grown-ups too. If you haven't heard the Architecture In Helsinki album yet, you must! And you've got to watch the original 'Dawn of the dead' film from the 70s. It's skill. Matt: Book - 'The Crow Road' by Iain Banks) record: 'Mas Cambios' by Herman Dune because I just bought it and am playing it to death right now and film: 'The Big Lebowski'. Jan: Current record - the Cocorosie album; book - Garth Nix's 'Abhorsen'; movie- 'Kiki's Delivery Service' and all the Studio Ghibli films - wonderful animation and cool stories... and 'Shaun of the Dead' and '28 days Later' and 'Battle Royale' and and and.... Cerian: Book-'The Shell Collector' by Anthony Doerr; album: mmm... dont know... fey indie la-la-la stuff and film 'The Godfather'. Richard: Book - 'Concrete Island' by J. G. Ballard, Film - 'Time Bandits' (little people hitting each other), Music - Broken Social Scene's 'You Forgot it in People' PB : Thank you.
Picture Gallery:-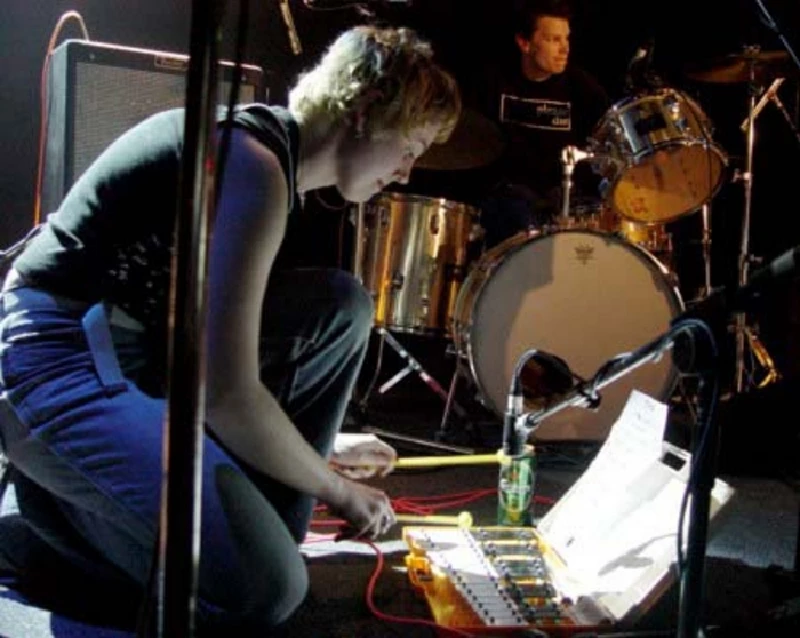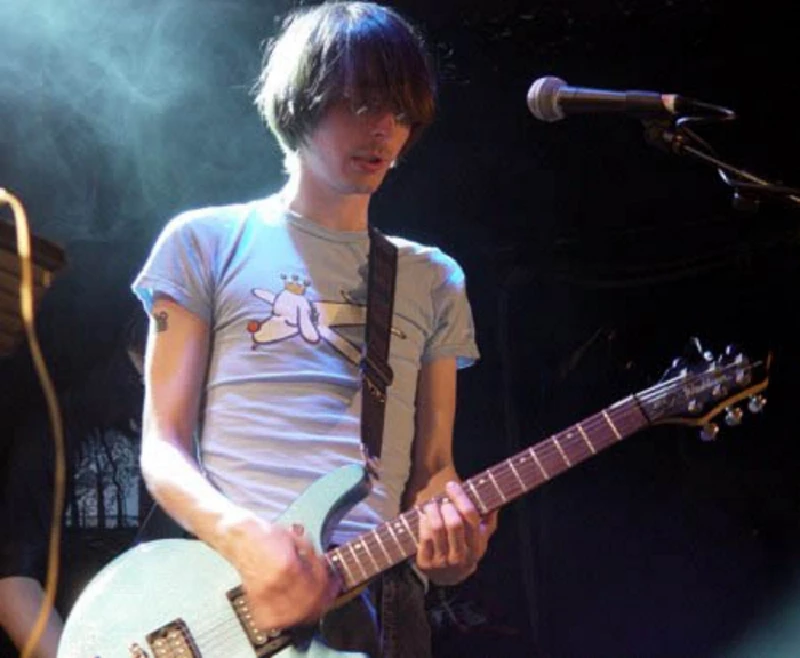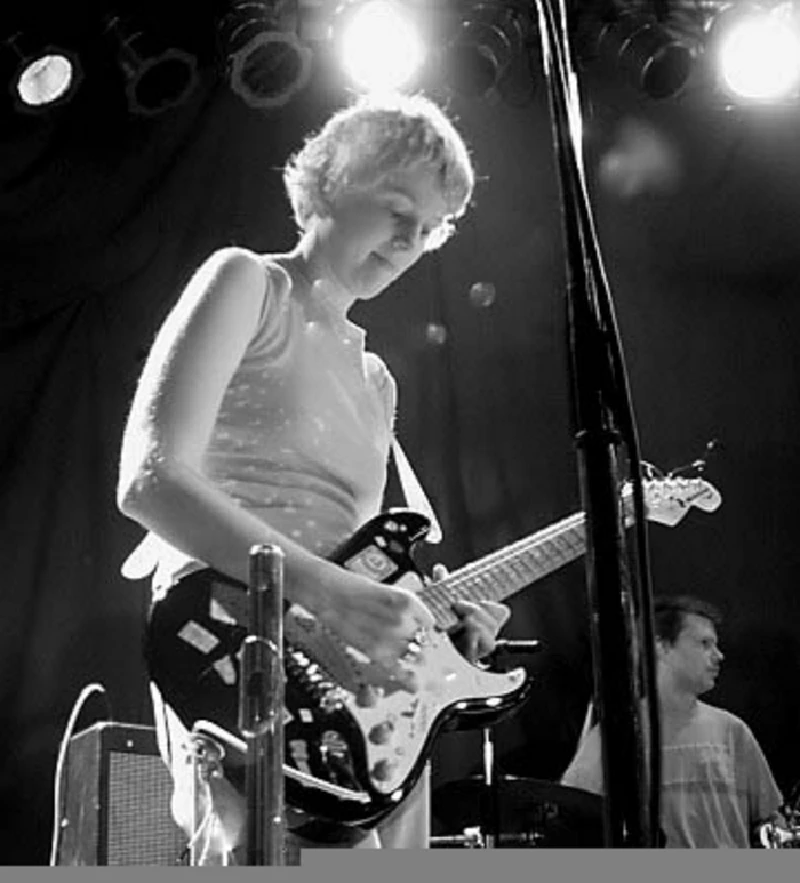 interviews
---
Interview (2007)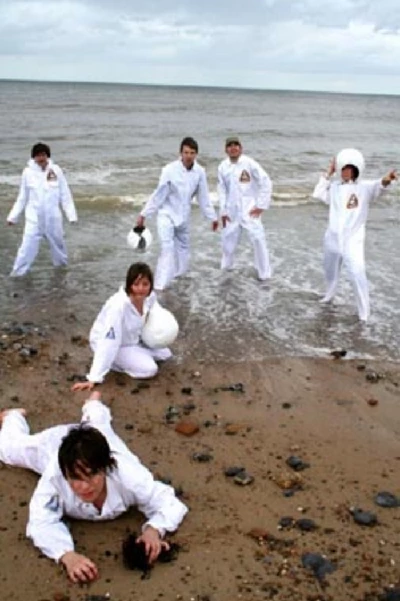 Bearsuit have been making gradual dents on mianstream culture with their distorted indie pop. Mark Rowland talks to the group about their forthcoming third album, ikts recording and and appearing on Top Shop's music video screens
Interview (2002)
live reviews
---
London Toynbee Arts Centre, 22/2/02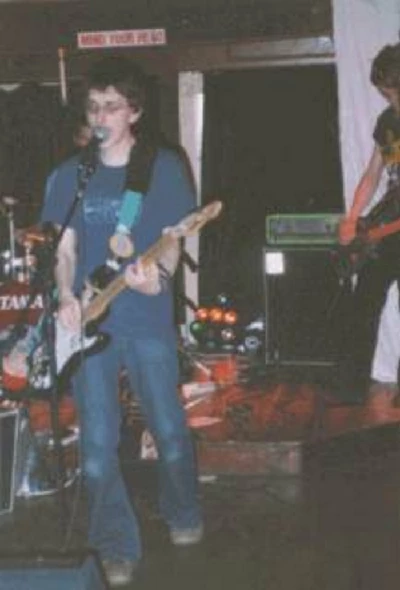 Norwich's Bearsuit are "musically unprincipled and inadvertently messy", but new writer Gary Wollen finds a recent London show to be "gorgeous, sublime and damn fine !"
Pennyblackmusic Regular Contributors
---