---
Gold Blade
-

Do You Believe In The Power Of R 'n' R
published: 6 / 6 / 2002
---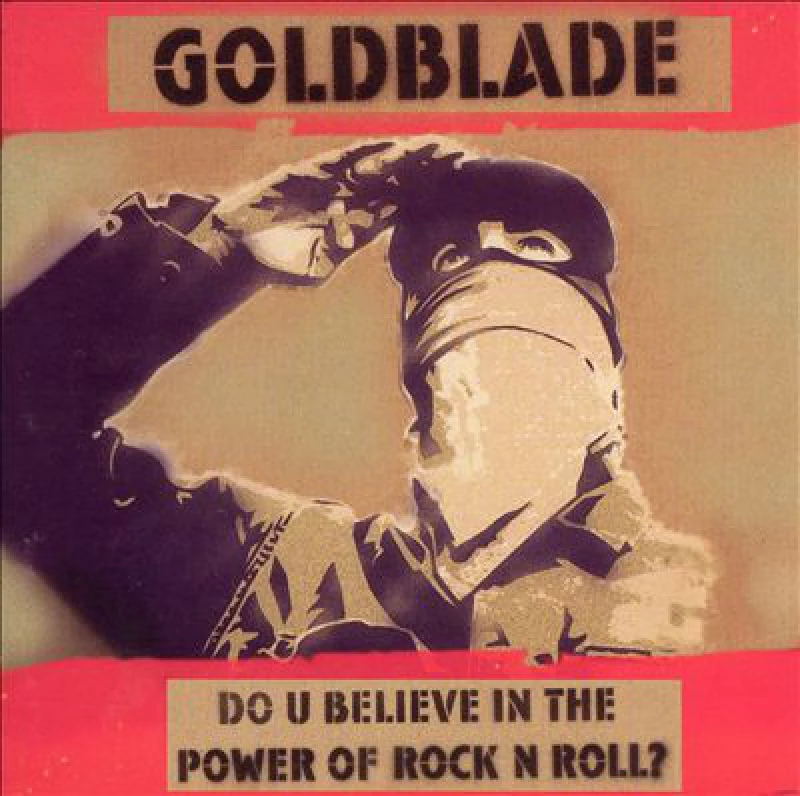 intro
"Muscular return" to style from the Manchester-based punk group, Goldblade, with their first album since 1998's 'Drop the Bomb
It's been nigh on four years since glam-punk-rocker renegades Goldblade's last thirty-three in the shape of 'Drop the Bomb' hit the decks back in 1998. Touring with the Offspring and with single 'Hairstyle' on the brink of the charts and being championed by Mark'n'Lard at Radio 1, the band suffered the misfortune of their record company, Ultimate, going bust. It's been a long road back, but the return of Goldblade out of the wilderness is a most welcome one though. Led by John Robb, who is perhaps better known to many for his punditry on the endless number of 'I love....1980's'" and'Top 10's' shows on the box, rather than mob orator and general co-ordinator of rock and roll chaos, 'Do You Believe in the Power of Rock and Roll ?' is a muscular return. Since then the musical sands of time have shifted firmly in the favour of Stateside nu-metal and emo. Quite where Goldblade fit in in terms of the New World musical order, however, is a difficult one. Too much tune to be lumped in with the nu-metallers, too contemporarily rock and roll for the emo tag, and now shorn of the brass section, even the Rocket from the Crypt comparisons that dogged them in the past are wholly inappropriate. Not that they will have lost too much sleep over this one, having survived the last three years with zero music press, relying solely on word-of-mouth to keep their rock'n'roll juggernaut rolling. And so to the fruits of their toil. Stripped of studio trickery and pretence, this is good honest rock'n'roll, free from all artificial additives and stimulants (quite literally, given the band extol the virtues of a drug and alcohol free lifestyle). What we get are twelve slices of pure punk rock adrenaline driven along by an unswerving belief in the age-old blueprint of cranked-up guitars and "in yer face" lyrics. The LP also represents the swan song for long serving guitarist Jay Taylor, who left after shortly after the recording to pursue his swamp-blues project Bonebox. Lead track 'Do You Believe in the Power of Rock'n' Roll ? 'lays out the band's manifesto from the off with its thumping drum assault and switchblade guitars powering along what must be the band's best slogan to date. Meanwhile 'Who was the Killa?' has already had an impact, inspiring a Manchester-based film-maker to shoot a film noir in which the band themselves will play a cameo role. Cue more heavy-duty riffing and key hook-line......"nothing to say, then shut your mouth". 'AC/DC' has already seen the light of day as a single and is variant of the formula that served them so well on minor chart hit 'Strictly Hardcore'. The tongue-in-cheek 'Kiss My Ass', an attack on the wine-bar-inhabiting trendies, is a more soulful affair and could have come from their debut LP 'Hometurf'. The light relief is only momentary and pile driving live favourite "Mutha Fukka" (which filches Motorhead's 'Ace of Spades'' riff) kicks in with it's no holes barred sonic assault. 'Panic Attack' is more reminiscent of the angular left-field punk-pop of Wire and That Petrol Emotion with its staccato guitars, while 'What a Life" is a wonderful Crampsy-blues stomp rocker that throws up comparisons with twisted pop-oddballs of 80's, the Very Things. 'Uranus' shows they can do a pretty mean Clash impression - it even sounds like they've got Mick Jones into the studio to do his trademark "whooooaaaaa" backing vocals. 'Square Peg in a Round Hole' should be earmarked as the next single with it's catchy "Hi-de-hi, gotta walk tall, he's just a square peg in a round hole" chorus line. By the time they've launched into 'Little Baby Satellite' a swelling whirlpool of guitar intense further your adrenalin and send you already reaching for the repeat button.
Track Listing:-
1
Do You Believe In The Power Of Rock And Roll?
2
Who Was The Killa?
3
AC/DC
4
Kiss My Ass
5
This Powerful Intoxicant Known As Love
6
Mutha Fukka
7
Punk Rock!
8
Panic Attack
9
Uranus
10
Square Peg In A Round Hole (Every Prophet Must Get Stoned)
11
What A Life
12
Little Baby Satellite
Visitor Comments:-
11

Posted By: Kath, Bristol on 01 Jan 1900
Full on life affirming rock n roll...
---
live reviews
---
Manchester Roadhouse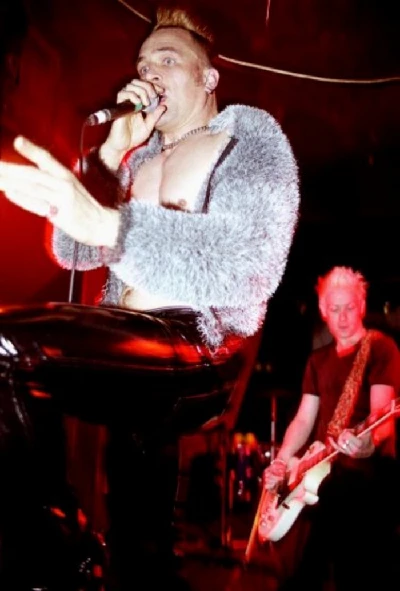 It's a cold December Friday outside and we' re in to Manchester's Roadhouse club for Goldblade's X-Mas party. Several hundred punters are packed into this neat little venue with its low ceiling, low s
Pennyblackmusic Regular Contributors
---