---
published: 21 / 6 / 2022
---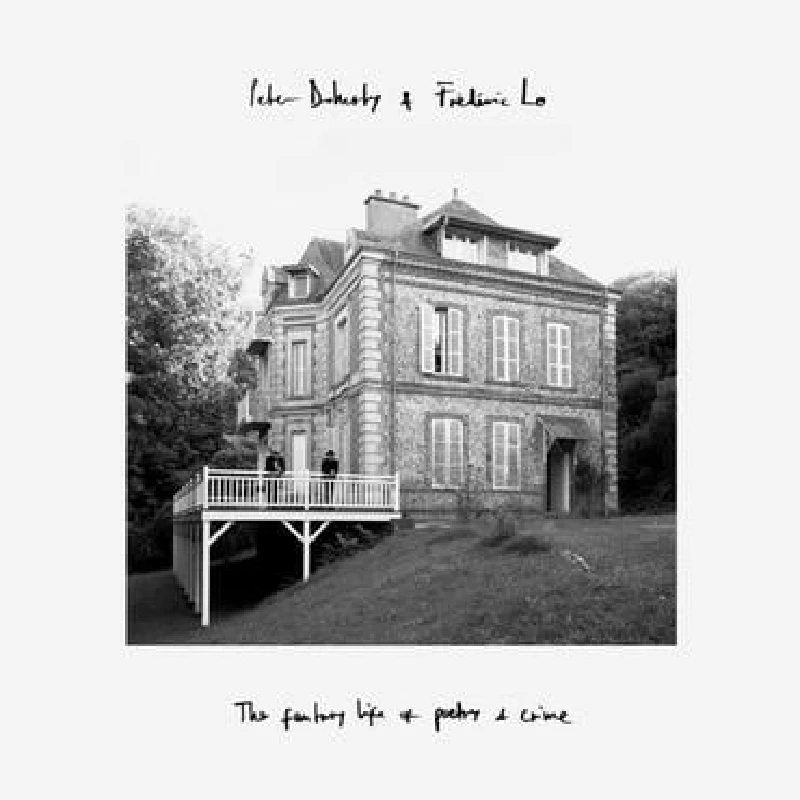 intro
Intimate and understated new album from The Libertines' Peter Doherty which h has recorded in collaboration with French musician Frederic Lo
"Give a man a mask and he will tell you the truth" claimed Oscar Wilde, and. although I doubt that he envisaged those which we've been wearing in recent years, the image is a poignant one as regards this new collaboration album born of Peter Doherty's lockdown and exile in Etretat. Of course, the masks to which Peter refers are those more of metaphor. In the late 1800s, the Normandy coast became home to many a maverick, decadent writer such as Wilde and Swinburne that were hounded from our shores, and its relative tranquility seems to suit Peter, who turned the pandemic which hubbled much of the music industry into a fortuitous opportunity to write reflective lyrics and cast off some persistent demons, that nonetheless have informed and inspired many of his most excellent songs. Early morning walks with his dogs along the misty cliffs at dawn seem to have lead to a new lucidity in his lyric writing though, and musing over Arsene Lupin, the fictional French gentleman thief character, a master of disguises, created by Maurice LeBlanc, originally revealed by Peter in his artworks, are an entry point into this collaboration, as the mysterious opening title track pays testimony. The meeting with Frederic Lo was born of the French musician's desire to request Doherty to do a cover on a tribute album to the late French singer Daniel Dark, Lo seeing parallels between the 'Taxi Girl' front man and Doherty. On finding that Lo had an album's worth of good tunes needing lyrics, Doherty instead pleaded to have a stab at turning them into songs. Lo's compositions seemed to take Doherty back to his pre-Libertine roots as a boy listening to the Smiths, Suede and the Beatles and have lead to a very reflective album that looks out across the sea into a mist of memories where his subsequent life in Whitechapel, Bethnal Green and Margate mingle with his relative peace and isolation in France, with wife Katia and the dogs who are always at his side. This is very much an album of laments and longings, with the lively Smiths-like 'You Can't Keep It From Me Forever" being an early expression of missing his desired narcotic concoctions. 'The Epidemiologist' also has an element of Morrissey about it too, with Lo's string arrangement echoing that which fades away in 'There is a Light That Never Goes Out'. The songs on this album are much quieter than Doherty's efforts with the Libertines, some with gentle, understated, offbeat reggae rhythms, cellos that arrive in a Beatles like fashion to form a kind of French chamber-pop, and leaves plenty of space for a more quiet, intimate, Doherty vocal that seems very much delivered to the listener one to one and are best heard,I feel, alone with a glass of something. There's little point my isolating too many specific songs, as they flit sylph like into each other like a meandering conversation, taking you from Etretat to the Margate esplanade of the Albion Rooms Hotel, where "run down B&B's turn into luxury", drug deals take place in unspecified phone boxes through to a lament to mark the passing of old buddy Alan Wass. Should I need to pick a stand out track, I'd choose 'The Glassblower' which is for me the most excellent, poetic effort. This song seems to waltz us back amongst the sarees and sarongs of the Whitechapel, Brick lane area of London and through Peter's internal landscapes simultaneously in lines like "Wine like a siren threads between the life I've led,/Wind swims in my naked head" and so on. If I have one criticism it would be that there wasn't one more up tempo number, yet fans of more raucous Libertines nights probably need not fear a total change of direction, as Covid's postponement of Peter's place "amongst the maddening throng" is reflected on with its own song. 'Far From The Madding Crowd'. All in all, if people actually sit back and listen to this album, they'll be suitably impressed.
Track Listing:-
1
The Fantasy Life of Poetry & Crime
2
The Epidemiologist
3
The Ballad Of
4
You Can't Keep It From Me Forever
5
Yes I Wear A Mask
6
Rock & Roll Alchemy
7
The Monster
8
Invictus
9
The Glassblower
10
Keeping Me On File
11
Abe Wassenstein
12
Far From The Madding Crowd
Band Links:-
https://peterdoherty.tmstor.es
https://www.facebook.com/peterdohertyofficial
https://twitter.com/petedoherty
https://www.facebook.com/frederic.lo.official/
Play in YouTube:-
Have a Listen:-
live reviews
---
Cavern Club, Liverpool, 27/3/2022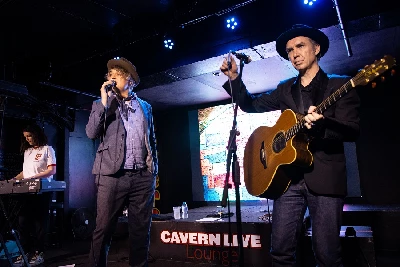 Amanda J. Window watches and photographs Peter Doherty and and French musician and producer Frédéric Lo play an intimate gig at The Cavern Club in Liverpool to promote their new album 'The Fantasy Life of Poetry and Crime'.
Pennyblackmusic Regular Contributors
---