---
Various

-

V4Velindre
published: 18 / 1 / 2022
---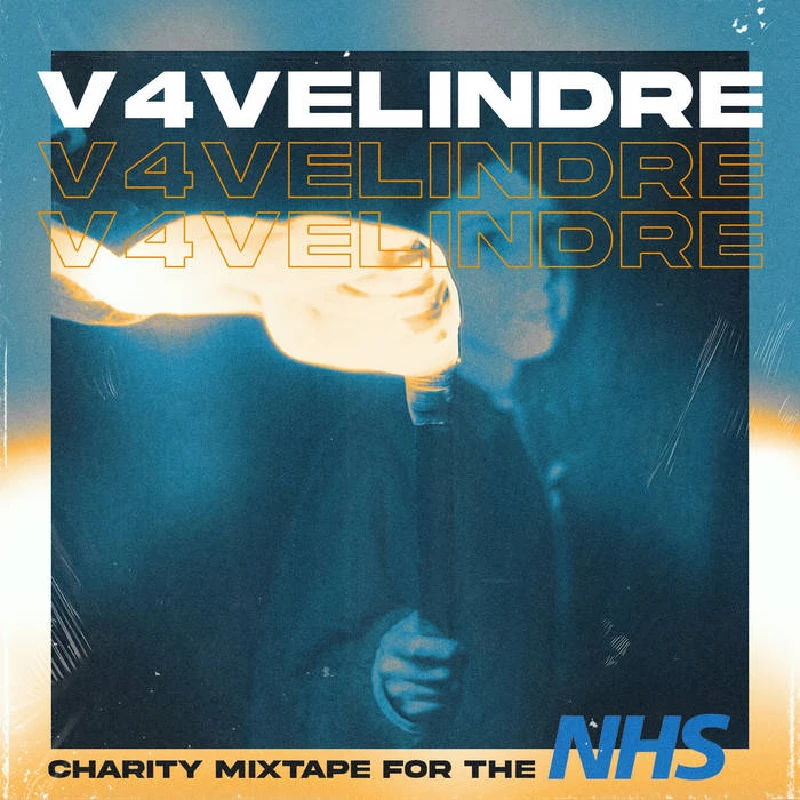 Label: Velindre
Format: Download
intro
Worthwhile and impeccably chosen 50-track mixtape to raise money for Velindre Cancer Centre in Cardiff.
This behemoth £7 compilation album by over four dozen predominantly Welsh indie artists was painstakingly curated by music journalist Kevin McGrath. It was originally intended to be only fourteen songs, but people kept saying "yes" to Kevin, who himself underwent cancer treatment at Velindre. Indie rock, pop, dreampop, and punk are all represented, new artists and well known ones (The Wedding Present), Welsh Music Prize winners such as Boy Azooga, The Gentle Good, and Adwaith, WMP nominees, as well as a number of artists previously reviewed in our pages, like Simon Love, The Nightingales, Climbing Trees, Burning Ferns, Peter Hall, and Matthew Frederick. Here are just a few more: Sandra's Wedding, Swimming Pool, Parker Woodland from Texas, Smile from Turin, and Me Against Misery. These artists were generous enough to donate amazing tracks, some in demo form, brand new, or alternate versions of older tracks, with no one phoning in throwaway songs. It says a lot about how appreciated Velindre Cancer Centre's services are in southeastern Wales, not least by Kevin and his family. For those who may not be familiar with Velindre, it is a "specialist cancer diagnostic and treatment center" on the campus of Velindre University NHS Trust in Cardiff that helps over 1.5 million people. The center is currently in the process of building a new facility. https://v4velindre.bandcamp.com https://velindre.nhs.wales/ redsoapbox.tumblr.com
Track Listing:-
1
Bandicoot - Fuzzy
2
oblong - Light Sleeper '21
3
Family Jools - California Sunshine (Radio Edit)
4
The Wedding Present - Brassneck [Locked Down and Stripped Back]
5
Sandra's Wedding - Hollywood
6
Codewalkers - Street Philosophy
7
Smile - Hideout
8
Parker Woodland - The World's On Fire (And We Still Fall In Love)
9
Evans McRae - Hold On
10
Silent Forum - Just Another Pop Act
11
Nightingales - Enemy of Promise
12
Me Against Misery - In Living Memory
13
Burning Ferns - Danger In The Western Hemisphere
14
Adwaith - Hey
15
Y Dail - Feel The Sun
16
That Forgotten Band - Crazy Street
17
SUPER 8 - Angels & Neil Diamond
18
Boy Azooga - O Silly Me
19
Head Noise - Stage Fright!
20
Shop Girls - Since I Last Saw You
21
The Honest Poet - Purpose
22
Jodie Marie - The Answer
23
Tot Taylor - Yoko, Oh
24
Armstrong - Yesterday's Over (Tomorrow's Where I Want To Be)
25
Matthew Frederick - Hay-on-Wye
26
BOB - Who You Are (Unreleased Demo Version)
27
GG Fearn - Deal With The Devil
28
Little Rêd - Apathy
29
Campfire Social - Awake In The Wake Of A Wave
30
Eggs On Mars - Fingers & Lips
31
The Grief Brothers - Marion Jones (Pretty Things Remix)
32
The Gentle Good - Mwyar Duon
33
Simon Love - Broken Heart
34
Walter Etc. - Burritos Alone
35
Climbing Trees - Aloisi
36
Sam Barnes - Wired World
37
Community Swimming Pool - I Don't Wanna Lose You
38
Dan Bettridge - Habitat
39
The Happy Somethings - hi there sunshine
40
Peter Hall - For Love
41
Bryony Sier - The Greatest
42
MRPHY - Lock Down
43
Jon Glanfield vs Industrial Chipmunks - Dub Controller
44
Somehow - While The Days Go By
45
Ash Red - The Stupid Song
46
Punching Peaches - Maggots
47
Dillon Salvi - Rain Coat
48
Eve Goodman - Pellter (Radio Edit)
49
Turnstiles - In A State
50
Soundstrand - What A Time To Be Alive (Demo)
Pennyblackmusic Regular Contributors
---