---
published: 27 / 10 / 2011
---
intro
Lisa Torem talks to pop legend Darlene Love about her five decade career and working with Phil Spector
With the likelihood of a film being made based on her 1998 biography, 'My Name is Love: The Darlene Love Story' (Darlene Love, with Rob Hoerberger), a 50th anniversary concert at Carnegie Hall in New York and a new co-write on a Christmas CD, former Gospel vocalist turned R & B/pop singer, Darlene Love, at the age of 70, sounds happy and complete. But her 50 years in the music business required the endurance of highs, lows, and countless recording sprints in which she went from lead to back-up, Gospel to soul, Motown and R & B. Born Darlene Wright, in California (later, relocating to New York City) and raised in a religious home - her father was a minister - Love began to sing in the church choir. In the 1960s she found session work with producer Phil Spector, known for his "Wall of Sound" style of recording. Love, singing with her trio, the Blossoms, worked with Sam Cooke, Elvis and Dionne Warwick before singing lead for the Crystals and also doing back up for them. Her many Motown credits included 'Baby, I Need Your Loving' and 'The Track of My Tears.' Though she sang lead on the Crystal hits 'He's a Rebel' and 'He's Sure the Boy I Love', that work was credited to the Crystals. Finally, on 'Today I Met the Boy I'm Gonna Marry' she received acknowledgement of her contributions. Part of Love's longevity comes from her ability to adapt to almost any musical genre. Early footage of the popular 1960s show, 'Shindig', illustrates this point. Love sings, "I used to smoke and dance and do the hootchy-coo" in the Gospel-tinged 'Saved' and turns the studio into a hand clapping, house-of-worship. On 'The Very Best of Darlene Love' recording, her anthem 'Lord, If You're a Woman', on which her first, impassioned vocal line goes: "listen to your sister", her searing emotions shine brilliantly through. Before she accepted her 2011 induction into the Rock and Roll Hall of Fame, it was Bette Midler who had said, "When I experienced the powerhouse that was Darlene Love, I was a goner." Throughout her five-decade career, besides appearing on 'The Letterman Show' for 25 years straight to sing her signature Christmas tune, she has shown an ability to go from ballad to soul to R & B and even revisit her Gospel roots in comprehensive recordings. In addition, Love played Danny Glover's wife in four 'Lethal Weapon' films and performed in Broadway shows 'Grease', 'Carrie' and 'Hairspray'. Over the phone she revisited her early inspirations, expounded on her inner reservoirs of strength and rejoiced over the longevity of her remarkable career. PB: I love Gospel and I know you come from Gospel roots, so I wanted to know about your favorite Gospel singers and why you chose the songs you chose for your album, 'Unconditional Love'. DL: Let me answer that question first, because I love the old, old hymns of the church. Those were like old, old songs I had sung when I was growing up, and then a friend of mine, Edwin Hawkins, said he would produce the record for me which I was very happy about because I loved what Edwin Hawkins did to songs like 'Oh, Happy Day', which was a really, old song. and all the other songs, so that was the reason I chose those songs. I still love them and actually sing them even in church today. PB: Is there a big jump musically between Gospel and R & B? I know that's a big question, but I was listening to some of those tunes and I could envision Sam Cooke singing some of those same numbers -– DL: There's not really a big jump. People make it a big jump. We, as singers, don't make it a big jump because I feel the same way about singing my songs that are secular music as I do about Christian music. It's just different lyrics. Because I sang Gospel in my show (and people love it as much as they do hearing me sing 'Da Doo Ron Ron') I think it's just what people think about; you shouldn't sing this and you shouldn't sing that – if you sing secular music, you shouldn't sing Gospel music, but why not? (Laughs) That's what we think. Aretha thinks that. Sam Cooke eventually, definitely, thought that, because I think God inspires all kinds of music, most of it anyway (Laughs). PB: There is a rhythm in Gospel that resonates from the piano which is so moving. How do you define that? DL: We have a saying which is very, very funny. It says that black Gospel singers play on the black keys and white Gospel singers play on the white keys (Laughs). I mean it's very funny, but it changes the sound when you hit those black keys on the piano, and the other thing which made Gospel so great for us was the organ. Most people didn't use - especially white Gospel singers – they didn't call it Gospel singing back in those days; they called it Christian music or religious music. The black people always called it Gospel Music. When you put that organ sound in Gospel music and somebody picks up a tambourine and the drums, you are gone (Laughs). PB: That's great. Who did you listen to? I'm personally familiar with the Barrett Sisters…were they inspirations? DL: I did, and the Caravans, the Davis Sisters, Mahalia Jackson, the Ward Singers. I loved all those groups because they had a sound that I loved. Even though they had lead singers; they still had that background that really kicked – the music kicked. You know, I love Aretha. I met Aretha when she was sixteen years old. I loved Gospel and I loved her along with her father. PB: Shelley Fabares sang a ballad, 'Johnny Angel', and the story goes that she didn't really enjoy singing and was intimidated by the Blossoms because you were such fine singers. You and the Blossoms sang backing vocals for Shelley. How did the group come up with that vocal arrangement? DL: Well, it was kind of easy with the Blossoms because we had been doing background sessions for so long for so many different types of singers. Lou Adler was a friend of ours who had produced her. We made her, after awhile, really feel at home because it was fun singing with her and, of course, working with Lou Adler was great. So, we tried to calm her down. "We're just like you. We're just back up singers and you're singing the lead." And, it ended up turning out really, really great, because of the sound that we got – Lou Adler wanted it to sound ethereal. You know (Darlene sings a few bars of 'Johnny Angel'). Maybe they thought that's how angels would sound so that's how they actually came up with that sound. PB: Was there a special effect used to make the vocals sound so ethereal? DL: No, there wasn't at all, because we were still working with our three and four tracks. So, it was just an idea of the group; The Blossoms together coming up with that sound and Lou liked it. It's amazing because even when I hear that song on the radio today I listen to it and go, "Wow, we really did sound good." PB: Was 'He's a Rebel' considered too rebellious when it came out on the airwaves? DL: No, I don't think so. When we recorded it – people try to start things and stop things – but, "He's a rebel", anybody could be a rebel. I remember people telling their little boys – "If you don't stop it, you're just a rebel" meanin, you're not doing what people tell you to do. By that time you're riding motorcycles or you're smoking weed. That's the way they looked at it back in those days, but I have three boys and I said, "You know what - you're just nothing but little rebels. You'd better sit down and be quiet." I think that's more a way of saying it. It was a cute song and, I always say, I never thought it would be a hit. I just thought, "That's a cute song, but who's going to buy it." PB: You won a case against Phil Spector for unpaid royalties. Was that a difficult process? DL: No, it was not really because Phil Spector knew I had signed a contract with him. He just did not figure anybody would find that contract. It was over thirty years old and people had moved around, but we found the old contract in a suitcase. I thought it was going to be difficult because I knew what Phil Spector was like, what his lawyers were like. I knew what Allan Klein was like at the time. So I was a little intimidated, but then after I got there and saw them and saw what they were going to try to do, I just said, "Hey, it's David against Goliath." So in that way it wasn't difficult. But, after I won the lawsuit, it took seven years to get the money because they kept appealing and appealing and appealing. The judges called to say, "Okay. This is your last appeal." And, after seven years, we finally got the money – it was the money we were supposed to get, but my whole thing was to allow people to know that Phil Spector was a liar. I was signed as an artist. PB: Darlene, in your autobiography you are quoted as saying "Gives women faith to go on." What did you mean by that? DL: Because, you know what? All of the stuff that I went through as a black woman. The Blossoms were the first, black group to be on a national television show, 'Shindig'. They did not want us on it because we were black and because the show was going national. It's really hard – and I'm not trying to be arrogant or anything – but it was very hard for a pretty, black woman in those days to make it in the business. You're too light or you're not dark enough. I couldn't get in commercials – at first, I could do commercials because I was, what they called a "high- yellow" black woman. But I'm not black skin. And, then, when they started letting darker-skinned, black women get in, I couldn't get any jobs because I was too light. They couldn't tell whether I was black or I was white. My whole idea of writing that book was telling women: "You can do and be whatever you want to be." You just have to be persistent – and that's all I was, all those years. Even though when it was hard for me – a lot of people wouldn't hire me because I was not a Crystal. Even though I recorded, 'He's a Rebel' and 'He's Sure the Boy I Love' and 'Da Doo Ron Ron.' They wouldn't hire me because my name wasn't a Crystal. My name was Darlene Love and I didn't want to be a Crystal. If just happened that Phil made those choices and there was nothing I could do about it, because it was his company and we were all signed to him. He could have put the record out on any name he wanted to and that's exactly what he did. PB: He erased one of your vocals. DL: Just on 'Da Doo Ron Ron.' PB: That's pretty creepy. DL: Yeah, because I never knew until the record came out. 'Da Doo Ron Ron' was supposed to be Darlene Love's first record and I didn't know that until it came out and I heard it on the radio as a Crystals record. He did record it, but he took my voice off and put La La's voice on. Those are all things; you have to be really so strong not to be bitter. The only reason I'm not a bitter person is because I have a career today because of those records. PB: How did you decide what to include in your memoirs? DL: I wanted it to be funny and I wanted it to be real; telling it from my perspective as a back up singer and the things that I saw and the things that happened. Because I don't care how big a star you are, you still, like my father used to say, have to go to the bathroom and wipe your own butt. We're all the same. When we go home, we're all the same person. We become somebody else. The people in the public make us something else after we come out of our houses. When I wake up in the morning and I have to go to work, that's when my job starts because I'm preparing to go on stage all day, because I know that at seven or eight 'o ' clock, I'll be on stage and I'm preparing from the time I get up to be on stage, and, for a woman, it's just hard. PB: And, as a young woman, dealing with so many business ventures – DL: Go along with it, because of my parents at the time – We weren't savvy about getting lawyers because lawyers were so expensive. Just go ahead on and sign the contract and everything will be okay. Later, you found out that there were lawyers that would take those cases. But, you don't know anything about lawyers. All you've heard about was this one lawyer who said, "You're going to have to give me $10,000 just to start." Where do you think I'm going to get $10,000? PB: You've worked with Bobby Pickett, Aretha, Elvis, Bobby Darin and Cher was a back up singer for you – what was it like working with these entertainers? Were they what we thought they were like? DL: Yeah, and you'd probably be surprised how nice these people are. They put up a guard when they're out in public – to guard themselves, to guard their privacy. They try to guard their privacy, but all of these people, especially Elvis – Elvis was so nice. He was so insecure and just wanted to be loved and he wished he could just go out and hang out, you know, like a natural person. When we were recording with Elvis, he would go and get his guitar when he found out that I was a Gospel singer and we would go for thirty minutes while he took a break and he would just get his guitar and say "Remember this one?" He just wanted to be natural – if everything could just be natural with him – Cher was great. She just wanted to learn. She wasn't a singer, yet, and when she got ready to do my background, she said, "Oh, wow. This is fantastic." So, it was really great being around all of those people at that level. They put their shields down because they would come to the studio and the Blossoms were the performers. They were the pros in the room. Everybody gave us so much respect, which was wonderful – the idea that The Blossoms are going to sing our background…we would love to sing with the group. They always made us feel that we were all on the same level. We went to the studio and nobody had on make-up, you had on your jeans. It was all just wonderful. There wasn't no cameras around in those days. Of course, when we did Elvis Presley's '68 Comeback Special', there were cameras. But in the recording studio, there were no cameras. There was nobody in there taking pictures. So everybody could just let their guard down and be themselves. PB: Finally, in 2011, you were inducted into the Rock and Roll Hall of Fame – DL: Yeah… PB: Finally. DL: (Laughs) PB: And there was Alice Cooper, Neil Diamond, Leon Russell, Dr. John - DL: And me. PB: And you. DL: I said, I couldn't have been put in at a better time. You should have been in a long, time ago… you should have been – But, for me timing is always when I'm supposed to be there. When I'm supposed to get in is when I got in. And I got in with some real rock and roll people (Laughs), which was amazing and to be the only woman standing with them and then Paul Schaeffer and Bruce Springsteen came up with the idea – let's end the show with 'Da Doo Ron Ron.' Everybody was hysterical – yes, let's do 'Da Doo Ron Ron'. It was fantastic. We jammed. They could have stayed there all night doing 'Da Doo Ron Ron' and I finally said, "Alright, you guys. Come on now! It's one o'clock in the morning. It's time to go home. PB: They were familiar with your hits. Were you familiar with their music? Alice Cooper? DL: Oh, Lord, yes, because they were actually after me in the Phil Spector days; they got big, so I knew about their music, but never did I think I would ever be in their presence; on the same stage working with them. I knew Bette Midler. I knew Bruce Springsteen, but I never knew I'd actually be working with him. I didn't know these people knew me. That was the amazing thing. Of course, they loved Phil Spector's music and the voice that was on those records and they knew it was my voice. It wasn't the Ronettes or the Crystals or Bobby Sox and The Blue Jeans. Darlene Love was a part of all of those records. With a superstar like Bruce –my God, those records are the greatest records ever recorded. It just humbled me so because I had no idea Bruce Springsteen even knew I even existed – but because of those records - which really made me feel good. PB: You have made twenty five appearances on 'The Letterman Show' and David Letterman really enjoys this holiday tradition. What does it mean to you? DL: This year, I just wish they could find something unbelievable to do. I'll have to talk to them, but other than me just coming out – just balloons or something, confetti; twenty five years in a row doing this one song, and the amazing thing about it, starting this month in October, November – I see people on the street – "You're going to be on David again this year, right?" People wait for me to sing that one song. I think if I came on and sang another song, people would think something is wrong. They had a strike a couple of years ago and the show wasn't on and they played the show from last year and people said, "I can't believe you didn't do the show this year." They played the rerun instead. And every year it has gotten bigger and bigger. Wherever I go, even when I went to Australia, people tell me the same thing. They're waiting for me to sing it. PB: Darlene, there was a show written about you. How did 'Portrait of a Singer' come about and how did you enjoy being in it? DL: The producers of that show had a club called the Bottom Line in downtown Manhattan and they came to me and asked me about all that music that I had done. In the beginning, there was so much music that I had done that had influenced music: Phil Spector, Ellie Greenwich, Jeff Barry, Sam Cooke, Elvis Presley and all of that music that I had been involved with. It was so startling to the music world, and they came up with an idea to do a show about me, that music and my life and that is the reason the book came about because people actually saw me singing. It was funny because one time when we were doing the show,there were some people from somewhere visiting and they wanted to come in and see and they said, "This girl is fantastic and we'd love to meet the real Darlene Love (Laughs)." That's when I said, "This is the real Darlene Love."It was a joy doing that show and that was the one show that we were really hoping would get bigger and bigger and bigger but who knows in time? Those things can come back around. PB: Who were your inspirations? DL: Actually, my inspirations were Gospel singers because I grew up with them and I just took what I had in my heart and brought it to the secular world. All of my Gospel was from my Gospel roots. Sam Cooke, when he started out, was a Gospel singer, and, of course, when he changed over I went right with him. My music went right with him. Back in the day when we were coming up, back in the 40s and the 50s, we weren't allowed in my house to listen to that kind of music, because my momma said that was the devil's music. PB; What changed her mind? DL: Because when I started singing with the Blossoms, it was nice, cute little music. We used to do things like sock hops that kids don't do anymore. PB: It's so sad that that doesn't happen anymore. DL: I know, I try to explain. "Why a sock hop?" Because you were in the gym and you couldn't walk on the floor with shoes on. People in the last fifty years have no idea how much fun we had, without drugs, without liquor, without any of those things. We used to have a ball, so my mother and father found out – they met the group and they met the parents. It was very well- chaperoned. It was okay, but, by then, I was sixteen or seventeen years old. It wasn't like I was ten or eleven years old. It really worked out great in my favour. PB; What happened to the other singers in the Blossoms? DL: One of the girls, who did 'Shindig' with us, Jean King, she passed on back in the early 1980s and Fanita is still alive and so are the other girls, but they're not in the music business. They're just doing whatever they do. I turned 70 this year and they were three years older, so they're like 73 or 74. I don't get to talk to them much anymore. One of the girls, Gloria, I see all the time. But I don't get to see Fanita or the other girls that much. PB: You co-wrote a song, which will be on your new Christmas album. DL: They call me The Christmas Queen here, I always wanted to do my Christmas show at Carnegie Hall, and I met this gentleman whose name is Tim Janis. He's done a Christmas Show at Carnegie Hall for the last five or six years. So, he asked me if I would like to be a part of it. He was asking me to be a part of a show, especially part of a Christmas Show, at Carnegie Hall. And, it's amazing because it's going to start my Christmas Show. But, doing this show with Tim – he actually wants to honour me. I'm very excited about doing this with him. It's really going to be very, very special, especially for me, because I get to sing four or five songs for the show. It's something that Tim's done every year so he has a planned show for an hour and a half, but he's allowing me to do five or six songs within the show. John Lloyd Young, who won a Tony for Jersey Boys, is going to be in the show also and so is Steve Van Zandt so I'm really excited. PB: You've had some history with Steve. DL: Yes, because he wrote 'Home Alone'. That's a song that's in my Christmas Show all of the time. PB: Will you do any acting in the future? DL: Well, from your lips to God's ears. (Laughs) I'm waiting. I'm waiting. Nothing has come along, but it's amazing. Everything that I've done in movies has actually been given to me. It's amazing because when I go to auditions, something happens – I'm not what they're looking for or they don't like me for the role but I'm still waiting for another great part to come along, I would love to do some more acting. It's just a matter of time. PB: What kind of arrangements will you be having in Carnegie Hall? DL: Oh, child, let me tell you, it's a whole orchestra. I'm going to sing myself sick. We have a hundred-voiced choir. So, it's going to be amazing. It really is, and, for me, just singing my Christmas songs at Carnegie Hall is a dream come true. I always end up meeting the right people. That puts me in different places at different times and places I don't go, and Tim Janis came along, and one of the songs that we're going to do – that I actually wrote with him -I never tried to write a song – it's called: 'Boogie Woogie Guy'. PB: Did you write the lyrics or the melody? DL: I wrote the lyrics along with Tim. We call it 'Boogie Woogie Guy', but the actual title is 'When Christmas Comes Around." PB: Thank you, Darlene.
Band Links:-
http://darleneloveworld.com/newalbum/
https://en.wikipedia.org/wiki/Darlene_Love
https://www.facebook.com/darleneloveworld
interviews
---
Interview (2015)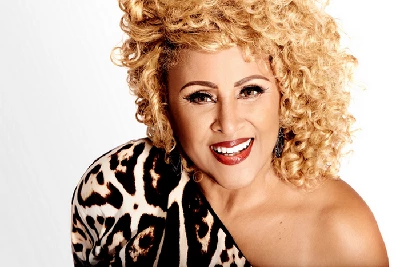 Lisa Torem speaks to 60's soul icon Darlene Love about 'Introducing Darlene Love', her new album produced by Steven Van Zandt, plans for filming her memoir and her forthcoming tour.
Pennyblackmusic Regular Contributors
---