---
published: 16 / 2 / 2008
---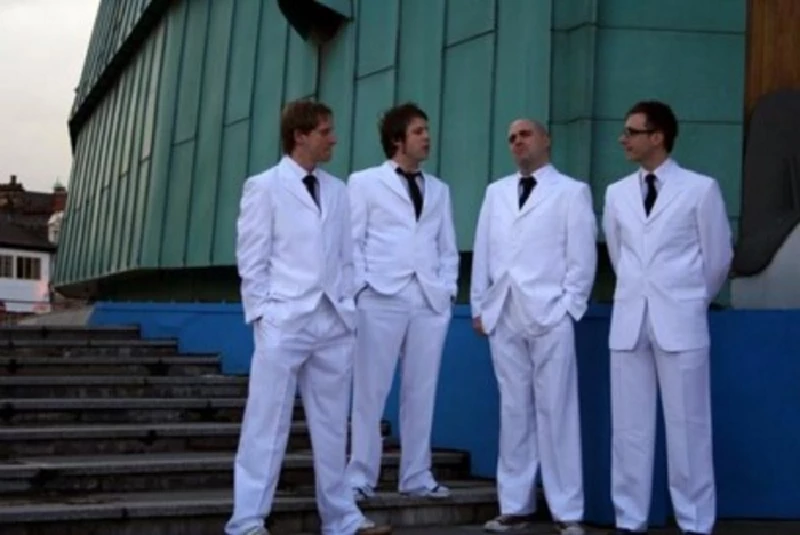 intro
Odd Shaped Head, who come from Newcastle, have been attracting a cult audience across Britain with their angular guitar rock sound and quirky lyrics. Frontman Paul Bentley chats to Jonjo McNeill about their forthcoming debut album, 'I Wonder How This Endeavour Will End'
Newcastle-upon-Tyne. Jewel in the Northern Crown and current home to a veritable melting pot of musical styles and cliques, all vying with each other for the seemingly short attention span of the region's gig-goers. Ask anyone from the area who their favourite Newcastle band is, however, and they'll almost certainly say Odd Shaped Head. That doesn't sit entirely too well with frontman Paul Bentley. "It's a funny phrase that 'Newcastle Band'. I'm not sure what it means? We ARE all from Newcastle but we perform as many gigs outside the region as we do in our hometown. We have a following up and down the country - we don't play one off gigs in Liverpool, taking a bus of friends and family. We have a genuine fanbase obtained by respect for our music and hard touring." Fair enough. So we've established that Odd Shaped Head are more than a Newcastle band. But then anyone with half an eye on MTV2 would know that. The videos for their last two singles ('The Multi-Coloured Ket Song' and 'Egomatic Annie') were both heavily playlisted by the channel. This was just another step in a musical journey destined for brilliance from the start. The angular guitar driven sound of the four piece is showcased perfectly on their debut longplayer 'I Wonder How This Endeavour Will End', an eleven song journey through chocolate peanuts, dead bodies in the kitchen and 'The Big Lebowski'. It's a marvellous debut album and one that the band has been itching to release for some time. "The album has finally arrived from the duplicators and we are really proud of it. It's an honest reflection of our first few years as Odd Shaped Head. We'll be releasing it soon after we've spoken with our distributors but - chances are - we'll be selling it pre-sale at gigs. It's available on Itunes now of course." So how does it feel listening back to the culmination of your last three years work ? "I feel now we're a little further down the 'road' in terms of songwriting and experience but hopefully it wont be too long before we can record our next album - certainly the material with Jamie is coming on really well. 'I Wonder How This Endeavour Will End?' has some really cracking tunes on it. I'm really proud of its eclecticism- it reminds me of a real independent 80's release when bands would PLAY with music and ideas rather than fit any sort of commercial template. Our 3 singles are on there, as well as a really cool live acoustic version of Lebowski. I love that tune - it has my favourite chorus and its so raw that you can hear the ambient noises and clicks as if when I'm listening to it I'm back there recording it. Silly, silly lyrics but heartfelt!" The Jamie which Bentley speaks of is Jamie Collins, recently recruited guitarist who has fitted into the band like a dream at their recent live shows. "We're very lucky to have Jamie in the band now - he's mega. We knew of his talents with cannon balls and melons long before we asked him humbly to join the band. It's a different dynamic with him, he's a very talented musician and was a fan of Odd Shaped Head so he knew all our material before our first rehearsal! He's being pushed too - experimenting with synthesizers and guitar effects he may have not got the chance to previously use." With a sort-of-new line up and a debut album in the can, you might be forgiven for thinking Odd Shaped Head might spend a bit of time sat on their Odd Shaped Arses recouping and pondering their next move. Not so… "We all have different passions in the band and mine is recording! I'd be down at BaseHQ studios in Newcastle every day if it was possible, although it would be foolish to rush straight into the studio whilst we should be promoting our new album. We'll continue to write - I think we're halfway to a new release. We could possibly do an EP until we've got enough for an album but we'll have to wait and see!" It always compounds expectations when a band with such a frenetic and prevailing live presence manages to capture the heart and soul of their sound on record. I myself fell in love with the band within three seconds of the first gig I was at and urge as many people as possible to get down and see them play. "I think our live performances are all about energy and rhythm. There's an electrical energy running through me onstage, I get shivers when things are clicking! It all comes through practice and knowing each other's strengths and weaknesses as performers. I think our audiences appreciate our excitement! We try very hard - our enthusiasm for music and live performances with fans and friends is genuine." It never seemed anything less that. As exciting a prospect as Odd Shaped Head deserves to be heard by everyone, so here's hoping they get the chance to spread themselves around as much as they can. With the debut album available now, a constantly updated live schedule and the prospect of more material later in the year is there anything specifically the chaps are hoping for from 2008 ? "I'd like as many people as possible to hear our music; play up and down the country for our fans; release a new album or EP; shoot a new video or two; get into more ridiculous photo-shoots; write wicked tunes; write poems and lyrics and work hard to become better at what we do. I couldn't imagine doing anything else!" And thank Odd for that he can't.
Picture Gallery:-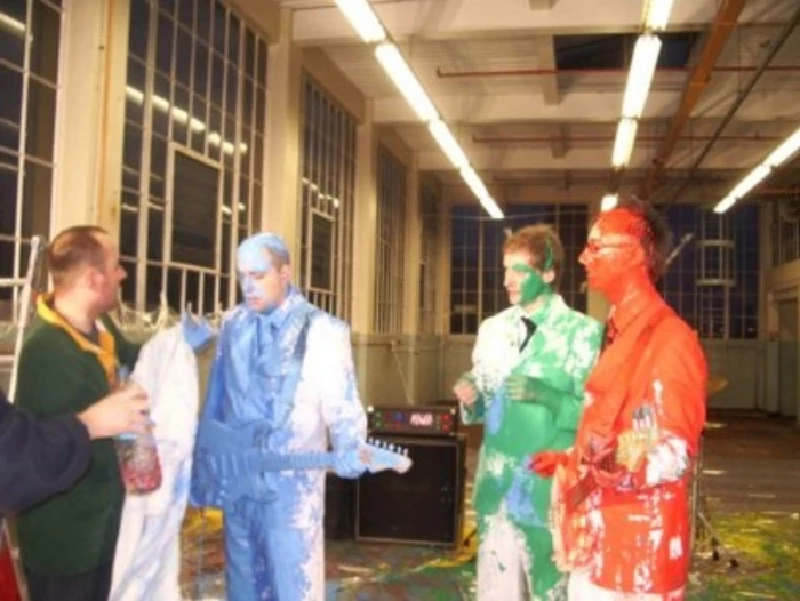 Visitor Comments:-
886

Posted By: connor ryan, my bathroom on 06 Mar 2019
my teacher mr sutton doing bits you know
---
882

Posted By: suttonfangirl, my house on 14 Dec 2018
thats my boy, mr suttonnnnnnnnnnnnnnnnnnnnnnnnnnn :))
---
497

Posted By: Leon Goldwater, Newcastle, UK on 12 Nov 2011
Mr sutton is my maths teacher and is just amazing!! hahaha; ive already bought the album off itunes!! its so funny!
---
428

Posted By: Jordan Ross, Newcastle on 13 Apr 2011
I think there amazing!!!! I would love to be in the paint with them, im amazed at the bald guys guitar skills! was the band named after him ??
---
427

Posted By: Michael Chan, Chanmans Channel on 13 Apr 2011
I inspire to be like these.
---
426

Posted By: Jordan Ross, 214 Controlled Assesment on 13 Apr 2011
I love These! i think there amazing!!! :D I would love to be in the paint with them in their music video video! i think the bald guys guitar skills are amazing :D is the band named after him?
---
420

Posted By: Maddy Duggan, newcastle on 08 Apr 2011
My maths teacher mr.sutton
---
419

Posted By: jonny, newcastle on 08 Apr 2011
haha bmy maths teacher 2011 hahaha this is so funny
---
418

Posted By: maddy duggan, newcastle on 08 Apr 2011
Heyy mr sutton
---
417

Posted By: loob, hhhjh on 08 Apr 2011
mr suton hahahaha bean head
---
404

Posted By: kyron robinson, home on 13 Feb 2011
my english teacher in 09
---
221

Posted By: chris, newcastle uk on 17 Sep 2009
mr sutton (the bald one) is the maths teacher from well i wont metion name in case
---
174

Posted By: connor grainger, peterlee, UK on 07 Apr 2009
that cool kidd he need to get flogging some tikets at school so we can go to his concerts =]
---
160

Posted By: 7A3 , peterlee on 23 Jan 2009
That iis my english teacher HOW COOL IS THAT IT'S MR BENTLEY ( HIS MAM IS MY DANCE EXAMINER)
---
149

Posted By: uknown, london on 15 Nov 2008
woo hes my teacher
---
147

Posted By: anon, newcastle on 10 Nov 2008
omg that old dude hoos bald is me maths teacher nd he goes on nd on about a band dat hes in but i didnt fink he was serious.lol . hope ur readin this mr sutton.
---
146

Posted By: anon, newcastle on 10 Nov 2008
omg the one covered in blue paint is my maths teacher lol im scared
---
143

Posted By: SOPHIE BENTLEY, NEWCASTLE on 06 Nov 2008
OMG THAT BALD MAN WORKS AT MY SCHOOL HE IS A MATHS TEACHERHE IS CALLED MR SUTTON, HE WORKS AT ST.MARY'S!!!!! PMSL
---
142

Posted By: Emma , Middlesborough, UK on 29 Oct 2008
OMG Mr. Sutton lolage
---
139

Posted By: Manuel P, Newcastle on 24 Sep 2008
HOLY FUCK THATS MY MATHS TEACHER!!!!! THE GUITARIST!!!! LOL WE CALL HIM MR.SUTTON!!!!!
---
Pennyblackmusic Regular Contributors
---