---
Of Montreal
-

Hissing Fauna, Are You the Destroyer ?
published: 24 / 3 / 2007
---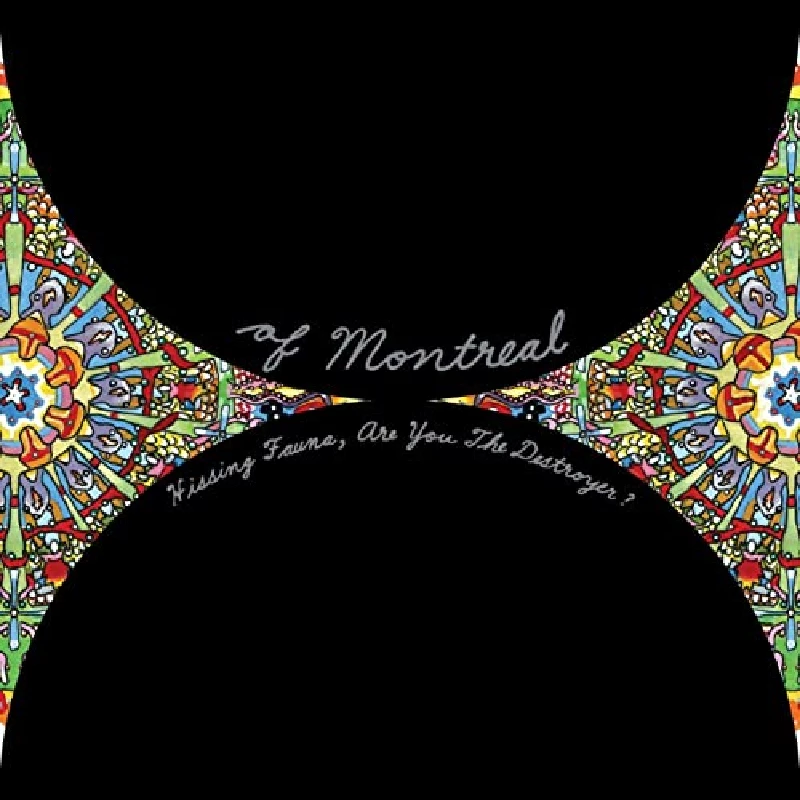 intro
Stunning snappy indie pop on sprawling nw album from constantly evolving Athens, Georgia-based collective, Of Montreal
A novelty here; when you purchase the 2LP set, you will find a voucher for the digital download of 'Hissing Fauna, Are You The Destroyer?'. Nice artefact you might say and it ought to get Of Montreal's name in the history books. Some day historians will look back on Of Montreal's legacy, with the aim of finding where exactly Of Montreal might have gone off the rails, as at times it has done so. Most certainly not on their new album for 2007 'Hissing Fauna, Are You The Destroyer' - that much will be certain. The album is a glorious bundle of snappy indie pop songs. Whilst the 2LP set has four extra tracks which should get your mouths all watering, one of the highlights of the album is a twelve minute track: 'The Past Is A Grotesque Animal'. Prior to arriving at that point at the mid point of the album, you'll be blown away by the sheer abundance of Of Montreal's hooks and choruses. In 'The Past..' this combination leads to moments of fabulous exuberance. Synthesizer riffs appear on and off as if the well will never run dry. With the aid of a very healthy white boy funk attitude, Of Montreal's three minute wonders become fancy fair tunes of the greatest sophistication. It is of little relevance that sometimes there are echoes of the Beatles or that a taste of Brian Wilson is thrown in, as Of Montreal always develop matters further, but its greatest achievement, however, is how the complex polyrhythms perfectly synchronise with songwriter Kevin Barnes' compositions. Rather than being something of an esoteric wacko as he was before, Barnes is now very focused, both thematically as well as emotionally. 'Bunny Ain't No Kind Of Rider' mentions that one Eva, just a baggy girl, "ain't got no soul power". Not withstanding that this track's just really great to listen to, catching you by surprise before rocking you back to the comfort of your listening chair. Ah, the sheer joy of this rich jamboree - sweet sixteen tracks - might make you stay up all night and put the album on repeat several times. 'She's A Rejecter' is a happily bouncing track that like in the best of blues and soul music portrays a sad event in one's life and then trashes that feeling with majestic slides and hooks. The reprise of 'She's A Rejecter', which actually builds on to the next and final track 'We Were Born The Mutants Again With Leafling', will likely be one of this year's finest moments. Involving a little bit of a Caribbean shuffle and jangling synths, the song has all you would wish for with simple but deep truths in its lyrics such as "particles are emotion". In good ol' Ann Peebles fashion this is "straight from the heart". Heart connected to a great brain, and there you have a winner of a combination. If you're into humming tunes, you will hardly ever cross paths with a more stunning collection of songs to hum to. The aforementioned extra tracks, available on a seperate CD EP as well, are much less polished though and sound a little harder on the ear. 'Derailments In A Place Of Our Own' works like a lesson. Its compelling message - "it's a free effing world and you can go where you want"- is followed by the conclusive 'No Conclusion'. This last example of finding a balance between urgency and complacency puts a few hurdles too many in its way, yet it can not change the notion that the original album is absolutely magnificent. With so many truly excellent tracks, one can't complain really.
Track Listing:-
1
Suffer For Fashion
2
Sink The Seine
3
Cato As A Pun
4
Heimdalsgate Like A Promethean Curse
5
Gronlandic Edit
6
A Sentence Of Sorts In Kongsvinger
7
The Past Is A Grotesque Animal
8
Bunny Ain't No Kind Of Rider
9
Faberge Falls For Shuggie
10
Labyrinthian Pomp
11
She's A Rejecter
12
We Were Born The Mutants Again With Leafling
Label Links:-
https://www.polyvinylrecords.com/#/
https://www.facebook.com/polyvinylrecords
https://plus.google.com/107863927394157809225/about
https://twitter.com/polyvinyl
http://polyvinylrecords.tumblr.com/
https://www.youtube.com/user/PolyvinylRecords
live reviews
---
KOKO, London, 16/10/2008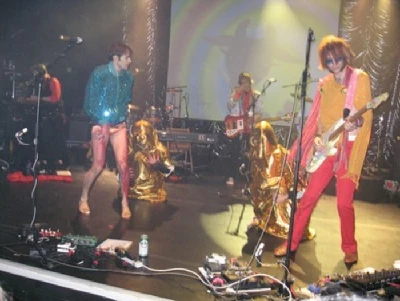 At the London KOKO, Mark Rowland finds Athens, Georgia-based band Of Montreal's eccentric form of orchestral rock and stage theatricals occasionally becoming too pretentious for their own good, but overall totally riveting
Pennyblackmusic Regular Contributors
---